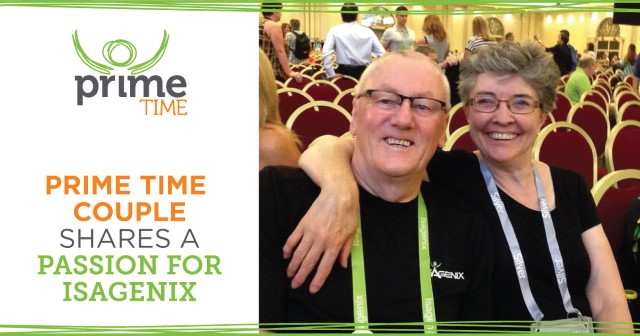 A lively and energetic couple, 69-year-old Harry Ramsbottom and his 62-year-old wife, Dolores, started using Isagenix products five years ago. Dolores began first while Harry needed a little convincing. They both started using the products for weight issues; Harry had been in the British military for 15 years and let his weight slide afterwards while Dolores was underweight and wanted to reach a healthier number on the scale.
Harry began with a 9-Day System, and to his surprise, he was able to successfully lose weight.* But it wasn't until he learned he had some serious health issues that he began to look for ways to make bigger changes to his lifestyle. Harry first checked with his doctors to confirm he could use the products in the 30-Day System to cleanse his body of potentially harmful impurities. With the support and supervision of his doctors, Harry began to see improvement and feel better overall.
A Passion for Prime Time
Dolores and Harry are passionate about the culture and community of Isagenix and focus on being involved in multiple activities within the company. They attend every event they possibly can and stay involved in the Prime Time group.
Prime Time is a community of like-minded people who hope to connect and inspire people who want to transform their lives and embrace life at any age. This was just what Dolores and Harry were looking for, because they had been searching for tools to help build their Isagenix business while also finding ways to connect with their peers.
"I've done a lot of things in my life, and I've always enjoyed being part of a group that I felt has a real purpose," Harry says about joining Prime Time. "And what we'd like to do, of course, is see a lot of people in our age group age healthier."
Self-Development and Solutions
Dolores and Harry are big fans of self-development and have participated in the Healthy Mind and Body program three times so far, with plans to do it again during the beginning of 2017. Despite struggling with her mindset for most of her life, the Healthy Mind and Body program combined with improved nutrition and support from the Isagenix community have helped Dolores maintain a positive mindset.
Dolores appreciates the forward-thinking attitude of Isagenix and the Prime Time community. She loves that those in the group are searching for solutions instead of sitting back and waiting for answers to come to them. This really helps her and Harry continue on their personal growth journey.
The Whole Package
As avid product users, both Dolores and Harry enjoy their favorite products daily. Harry uses Cleanse for Life® regularly, and Dolores is hooked on Creamy Dutch Chocolate IsaLean® Shake, Isagenix Greens™, and Isagenix Fruits™.
The couple gives Isagenix a lot of credit for helping them get to where they are today. Harry says he is happy he made the decision to use Isagenix products to help him maintain his health and wellness. Dolores believes her quality of life has changed since starting Isagenix, due to using the products and becoming part of the community.
"I've looked my whole life for a community like this," Dolores says of Isagenix and Prime Time. "I finally found it."
For more information about Prime Time, visit NowIsPrimeTime.com, and check out the Prime Time blog.
*Weight loss should not be considered typical. In a study performed in 2012 by University of Illinois at Chicago researchers, subjects lost an average of 9 pounds with an average of 2 pounds of the loss from visceral fat after 30 days on an Isagenix System. The subjects also had a greater level of adherence and had more consistent weight loss from week to week compared to subjects on a traditional diet.