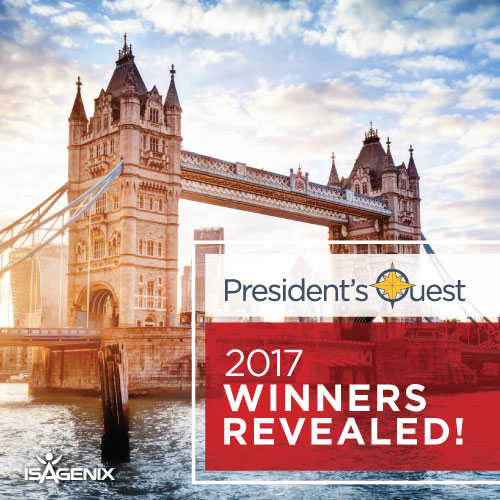 This October, we're jetting across the pond, where eight hardworking Isagenix businesses from across the world will be accompanying us on a luxurious journey fit for a king and queen.
Chosen as the President's Quest 2017 winners, these deserving Associates earned Leader in Action points between July 2016 and June 2017 by engaging in business-building activities that have led to their success. They increased their monthly paid personal Cycles, personally enrolled new Members, helped their team members advance in rank, and earned additional points by consistently remaining Paid-As Executive.
In recognition of their hard work, these passionate Associates are accompanying Isagenix Owners Jim and Kathy Coover for an adventure of a lifetime to London, England.
Now, it's finally time to announce who will be donning their crowns for this incredible royal adventure!
Congratulations to the President's Quest 2017 Winners!
| | |
| --- | --- |
|   | Lindsey & Peter Wynia |
|   | Narelle & Richard |
|   | Julia & Jay Johnson |
|   | Adam Nesbitt & Bianca Bathurst |
|   | Kim Aliprantis |
|   | Sandra Davidson |
|   | Gayle Connole |
|   | Michelle Fuller & Darrin Vassallo |
What Will the London Voyage Entail?
President's Quest 2017 winners will be treated to first-class round-trip airfare to brilliant London, where they will spend six days and five nights getting to know fellow winners while enjoying five-star luxury accommodations at the Savoy Hotel.
By day, they'll enjoy exclusive excursions and explore iconic destinations like Buckingham Palace, Westminster Abby, and the London Eye, and by night, they'll dine at private dinners with Jim and Kathy Coover at iconic places like Kensington Palace.
How Can YOU Be a Part of the Next Grand Adventure?!
While we will not be having a President's Quest incentive in 2018, your hard work is still sure to be rewarded through our new and exciting promotions like Global Top Achievers, the newly announced ChampionSHIP Cruise promotion, and more.
If you want to join other Isagenix leaders for one of the incredible Isagenix incentives, it's time to get into action. Earn your way by igniting your team, performing like a Leader in Action, and continuing to live your #PathWithPurpose. It's never too early to start setting and working toward your goals, and we can't wait to see your success each step of the way!
To stay up to date on all the upcoming promotions, visit the "Contests & Promotions" page in your Back Office.
*The ability to earn income under the Isagenix Compensation Plan depends on many factors including an individual Associate's business, social, and sales skills; personal ambition and activity; availability of time and financial resources; and access to a large network of family, friends, and business contacts. Isagenix cannot and does not guarantee any particular level of earnings. Even Associates who dedicate a significant amount of time, effort, and personal funds may not achieve a meaningful level of success. For average earnings, refer to the Isagenix Earnings Disclosure Statement at IsagenixEarnings.com.