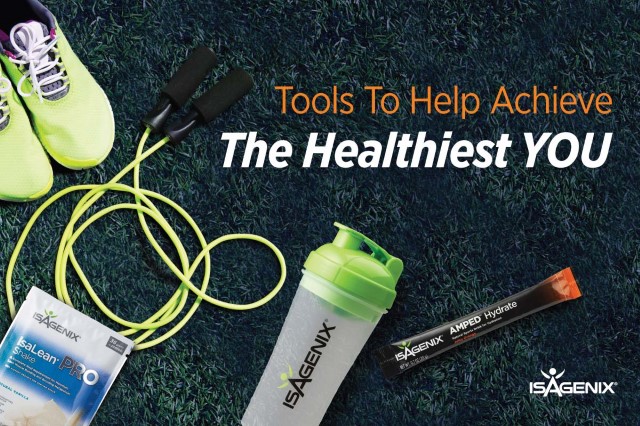 So what exactly do IsaLean® PRO Shake and the AMPED™ Performance line have in common?
A lot more than you may think!
These powerful products work together to support your health goals, making it simple and convenient to fuel your weight loss and performance goals. Formulated with fitness in mind, both IsaLean PRO Shake and AMPED Performance products were designed to be taken alongside one another, in an effort to maximize results and benefits.
Whether for performance, endurance, training, conditioning, or physical maintenance, athletes of varying levels have expressed success while incorporating these products into their daily workout routines.
For example, Trevor Hairston, a 2017 Team Isagenix Ambassador recently said, "I was looking for products that are backed by science, have quality ingredients, and produce results."
Trevor also expressed that he is a fan of the AMPED Performance line, which he uses to supplement his daily workouts.
The AMPED series is made up of multiple products, each to be taken at a specific time: AMPED NOx and AMPED Power both to be taken preworkout, AMPED Fuel to be taken midworkout, AMPED Hydrate to be taken during your workout, and AMPED Recover to be taken postworkout. Each specialized product delivers nutritionally timed support to help you achieve your best performance, whether you are at the gym or on the track – take AMPED wherever your workout takes you!
Shane Perkins is another supporter of fueling up with Isagenix and is also a member of Team Isagenix. As a professional cyclist, Shane sustains his momentum during his multiday races by drinking up to three IsaLean PRO Shakes per day. With 36 grams of high-quality undenatured whey and milk protein in every serving, endurance athletes like Shane use IsaLean PRO Shake to fuel their athletic performance. IsaLean PRO Shakes are low-glycemic and contain a balance of energy-fueling carbohydrates, good fats, and filling fiber, making them the perfect companion before or after a workout.  Our Strawberry Cream IsaLean PRO flavor is a smooth and creamy delight, perfect for those looking to shake up their training sessions!
Together, these Isagenix products make the perfect pair and make it convenient for you to work toward your maximum performance potential. Visit your Back Office today, and be sure to add these products to your next wholesale or Autoship order! Exercise better, train better, and seek better results with products backed by science.