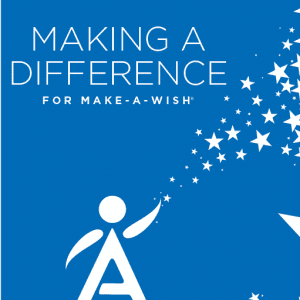 Contribution is at the core of Isagenix, and the passion for giving back runs deep throughout our company. Since 2012, we have been a proud partner of Make-A-Wish®, a global organization that grants the wishes of children with life-threatening medical conditions. Isagenix and our Associates have helped support Make-A-Wish in changing the lives of hundreds of children by bringing joy and hope to them and their families.
Each donation given to Make-A-Wish, whether it is large or small, can help inspire and give renewed strength to these extraordinary families to continue their fight against their children's illnesses. Our Associates are driven to make a difference in the lives of others, and they continue to donate more to Make-A-Wish every year, whether through their Autoship, commissions, or hosting events to raise money.
'Syd's Sweet Treats' for a Cause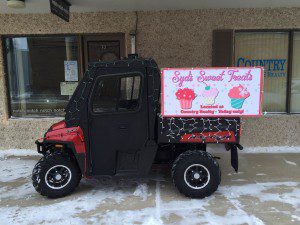 Isagenix Associate Amy S. often shares highlights of her Isagenix journey and experiences with her 9-year-old daughter Sydney. When Sydney heard about the partnership Isagenix has with Make-A-Wish, it spurred her interest, and she began watching videos about the wish kids the organization supports.
"I saw this video of a girl named Olivia, and I wanted to raise money for kids like her," says Sydney. "Her wish was to go to the Florida theme parks, and Make-A-Wish helped her go."
Sydney and her aunt Jenny often spent time together baking, so this special 9-year-old decided she would raise money for Make-A-Wish with a bake sale. Sydney and her aunt spent hours in the kitchen baking and decorating different themed cupcakes and brownies and prepared hot chocolate for the bake sale.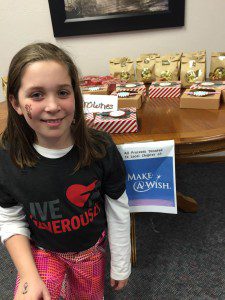 "Syd's Sweet Treats" made its debut at Grafton, North Dakota's Winterfest. During the Parade of Lights, Sydney sold her baked goods and hot chocolate to the event attendees with the help of her mother, father, aunt, and cousin. Her treats were a hit, and she was able to raise $340 for Make-A-Wish!
Sydney is already planning her next "Syd's Sweet Treats" bake sale and has a Pinterest board full of new treats she wants to bake.
"Sydney hopes to be at an Isagenix event one day so she can donate when they do the Make-A-Wish segment," says Amy. "Giving back is a spirit that's alive in her."
Pursuing a Passion for Fashion and Contribution
When Isagenix Associate Diane D. became a part of Isagenix, she was moved by the partnership the company had with Make-A-Wish and the generous hearts of the Isagenix family.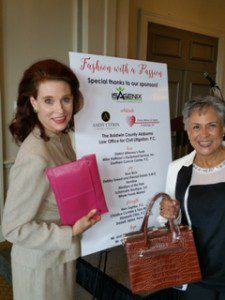 The first "Fashion With a Passion" event came to fruition after Diane and her team had the opportunity to attend Celebration and watch as Isagenix revealed that wish kid Ben would have his dream of meeting a platypus come true. Diane returned to Alabama with a mission. Wanting to do something special to help contribute to the cause, Diane saw the opportunity to combine her passion for clothing, jewelry, and accessories with her passion for giving back.
Held in Fairhope, Alabama in honor of Mother's Day, the inaugural "Fashion With a Passion" event featured a fashion show that showcased beautiful clothing from local boutiques. The event offered attendees a delicious brunch, hosted dozens of health, beauty, and art vendors, and included a live auction and purse drawing to help raise money for Make-A-Wish.
The first event was such a hit that the CEO and president of Make-A-Wish Alabama, Pam Jones, reached out to Diane to host a second event in Mobile, Alabama during the holiday season. Both events were sold out and raised $33,500 in total for Make-A-Wish Alabama!
"I love that we can help children right here in our own area," says Diane. "I hope that other Isagenix Associates in other areas will do the same thing. It's such a win-win for everybody."
Diane and her team hosted the 2016 "Fashion With a Passion" event on May 3, 2016 at the Grand Hotel Marriott Resort in Point Clear, Alabama. They welcomed two local wish kids to the event who had the opportunity to walk the stage. This venue allowed them to host more attendees than last year and the sold-out event raised over $25,000!
 How Can You Give Back?
Our goal is to have every single Associate donate to Make-A-Wish during the month of May. Whether you contribute $5 a week, $150 a month, or $10,000 a year, your donations can help inspire and give renewed strength to these extraordinary families to continue their fight.
If you would like to join the thousands of Associates contributing to Make-A-Wish, here are three easy ways to do it:
Purchase product. In the U.S. and Canada, for every six- or 12-count box of e+™ you have on Autoship, Isagenix will donate 50 cents to Make-A-Wish.
Donate monthly. Visit your Back Office and select "Manage Autoship" under the "Orders" tab to make a $1 or more recurring charitable donation on every order.
Make a one-time or weekly commission donation. To donate through your commission, simply email IsaWish@IsagenixCorp.com your name, member ID number, and donation amount you would like deducted from each commission.
For more information about Make-A-Wish, visit the "Culture" tab on Isagenix.com and select "Charities."