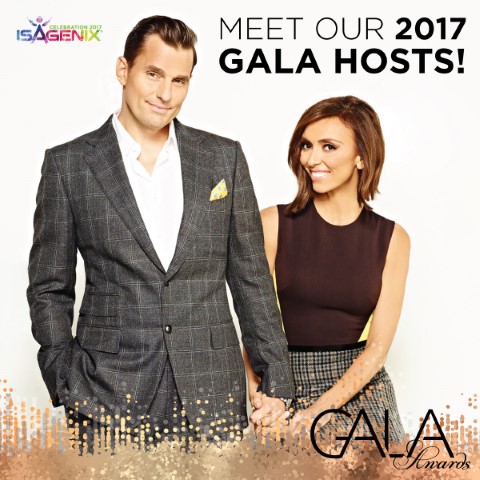 We are so excited to announce that acclaimed television personalities and New York Times best-selling authors Bill and Giuliana Rancic will be joining us for our premier recognition night of the year as our hosts at the Gala Awards at Celebration 2017 in Las Vegas, Nevada.
Both successful entrepreneurs and highly sought-after speakers, this dynamic pair can't wait to join us for this spectacular event and share a special message for all of our Celebration attendees.
We invite all Celebration ticket holders to join us in honoring the incredible achievements of their peers, friends, and team members. Find out who will be recognized as the 2017 Shooting Stars, Isagenix Man and Woman of the Year, Spirit of Isagenix, and more!
This star-studded event is one of the most valuable and exciting nights of the year – get ready to dress to impress and walk the green carpet with your team. This glamorous evening takes place in the City of Lights, so we encourage you to plan a night of fun and celebration with your team that lasts long after the Gala Awards end!
Bill & Giuliana Can't Wait to Recognize You!
Have you always wanted to cross the stage as one of our Shooting Stars? Or maybe you would like to know how you can earn the prestigious title of Leader of the Year? Learn how you can qualify to be recognized at the Gala Awards here!
Will We See You There?!
Celebration 2017 will be one for the record books, so if you haven't already secured your ticket, make sure you to head to IsagenixCelebration.com to do so today. The Gala Awards are open to all Celebration ticket holders, but we do ask that you RSVP for this night to remember at IsagenixCelebration.com. We can't wait to celebrate with you there!