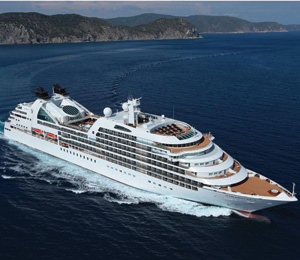 One month remains for you to earn your exclusive invitation aboard the luxurious Seabourn Quest and join Isagenix Co-Founders Jim and Kathy Coover on the vacation of a lifetime!
The top five, point-earning Associates who reach this prestigious rank the most times will be invited. Winners will be announced on stage at 2012 "Your Future Starts Today" Celebration. (Take a look at this flyer for more details!)
The reward? A vacation of a lifetime! For seven, sun-filled days you and a guest will board the Seabourn Quest and enjoy penthouse accommodations, world-renowned cuisine, a signature water sports marina and the most stunning views around.
Wondering who's currently in the Top 40? Here's the most up-to-date list in alphabetical order:
Andrea & Sean L.
Cari-Lee S.
Carol F.
Carolyne R. & Steven B.
Cathy S.
Cindy L.
Cynthia H.
Daniele & Jason H.
Ross & Danielle T.
Deb & Jesse R.
Doris Renae G.
Ellen B. G.
Equi-Imports Inc
Erin P.
Gina M.
Herb & Patty C.
Hilari & Justin C.
Holly D.
Janey S.
Jani E.
Jerry & Anny S.
Jerry & Rachele N.
Jimmy S.
Joy S.
Kelley D.
Latinexpress
Laura H.
Lisa D.
Lisa W.
Lori & Chris H.
Lynn H.
Melanie L.
Michelle S.-D.
Pamela & Kevin B.
Patricia M.
Rob & Nicole S.
Sandi & Jim E.
Scott W.
Sherry C. & Michael D.
Stephanie B.
For more detailed information on President's Quest, check out this flyer and watch this video.
http://youtu.be/SYGtnStNf34