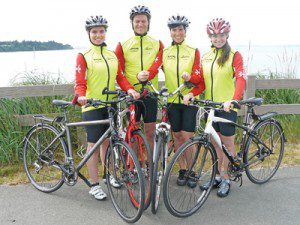 On June 2, Consultant Marina Bakker-Ayers and her family, husband Byron and daughters Jessica, 24 and Lushia, 19, set out on a three-month, cross-country cycling adventure to help raise awareness for two Canadian children's charities.
Partnering with Free the Children and the Canadian Mental Health Association, the Bakker-Ayers family hopes to raise awareness and a voice for children and youth with mental health issues—a cause near and dear to Marina.
"As a result of my own childhood trauma, I ended up with a massive breakdown as an adult that was triggered by an old childhood neighbor showing up in my life years later," shares the 2011 IsaBody Challenge® first-place winner in the Women's 50+ Category. Marina lost 48.5 pounds and regained her energy thanks to the Challenge.
Starting in Nanaimo, British Columbia, an island city near Vancouver, and finishing up in Halifax, Nova Scotia, the 3,700-plus mile trek is the first of its kind for this family of four. Their goal is to complete their journey by August 5 and pick up their pre-booked airline tickets to Phoenix, Ariz. to attend this year's big 2012 "Your Future Starts Today" Celebration. To do that, the family must cycle 120 kilometers a day. (That's 75 miles!) To date, their best day was 200 kilometers or 125 miles.
To maintain their health and keep up their strength, the family fuels up on an unlimited supply of Isagenix® products. Their daily staples include everything from IsaLean® Shakes, IsaPro® and IsaLean® Bars to Want More Energy?®, Ionix® Supreme and IsaDelight Plus™ and more.
They unwind in their home-away-from-home—a 60-foot, retrofitted Budget Rental Van that includes four bunk beds, a kitchen and a place to fix and repair any damage done to their bikes.
For Marina, the best part of this adventure is that she is experiencing it with family, getting out of the house and helping children.
To see pictures and read more about the Bakker-Ayers family's cross-country journey, visit their blog site.