Nearly 5,000 people gathered at the Phoenix Convention Center in Phoenix, Arizona, today to partake in our New Year Kick Off event – and it was fantastic. If you were present, then you know what we're talking about; if you couldn't make it to the event, here's a quick recap of how the day unfolded and the exciting highlights!
The morning started off with a burst of energy as attendees poured through the doors, bumping to DJ Skemaddox, eager to kick off General Session.
Important Brand Announcement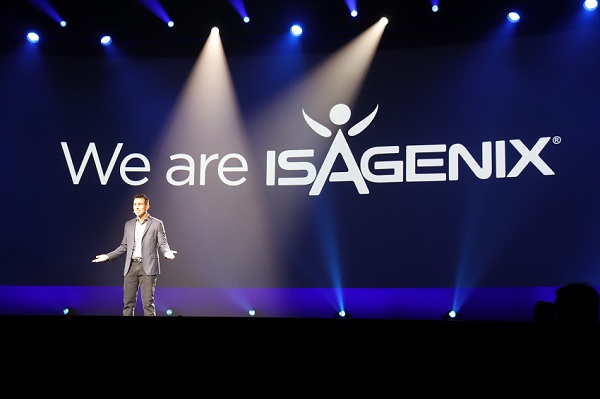 Co-Owner Erik Coover took the stage first – his contagious energy stirring up the crowd – Erik discussed the evolution of our brand, the story and motivation behind it, and our vision for the future. Read more about how our brand is evolving here.
We are dreamers, believers, and achievers of transformation. We are lovers of purpose and passion. We are leaders in wellness. We are experts in entrepreneurship. We are innovation and integrity. We don't wait for opportunities; we make them happen. We are a lifestyle. We live the IsaLife. — Erik Coover
New Product and Tool Releases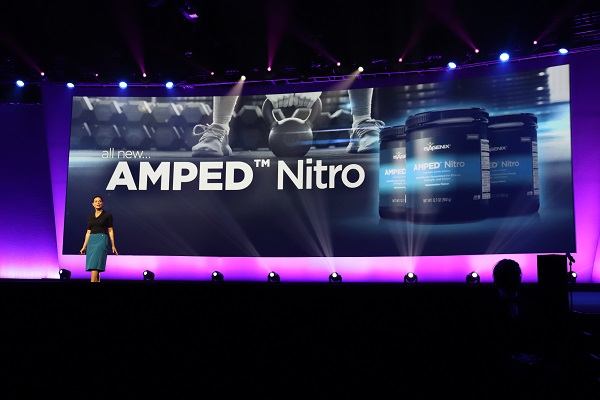 Co-Owners Jim and Kathy Coover each took the stage, one after the other, to talk about our new tools and products that will help you transform both your business and your body. Read on for the exciting releases that came out of NYKO Day 1.
NYKO attendees were privy to the first look, first taste, and first chance to purchase brand-new products (even more reason you need to attend Isagenix events!). Check out these incredible new products that will be available to the public very soon!
Immune Shake Booster – Add this to any of your shakes to support your immune system health.†
Heart Shake Booster – Keep your most important muscle in mind with our new Heart Booster, which is unflavored and easily blends into your usual shake.
AMPED™ Nitro – Meet the secret weapon to your next-level workout!
Chocolate Mint IsaLean™ Shake is here to stay! – We heard you! The much-loved Chocolate Mint IsaLean Shake usually makes an appearance for the holiday season, but due to popular demand, we're making it a permanent flavor!
New! IsaBlender® Max – with greater power, versatility, and function. Available in Value, Premium, and Ultimate Paks.

Updated Weight Loss Value Pak – (U.S. and Puerto Rico only.) This new Weight Loss Value Pak now contains our most popular 30-Day Cleansing and Fat Burning System along with one canister of Isagenix Greens™, one box of Whey Thins™, the new IsaBlender Max, a US$25 product coupon, and two Friends and Family Free Membership activation codes! Plus, this new Weight Loss Value Pak's PIB has been increased from US$80 to US$100 per pak!
NEW! 90-Day Action Plan – Everybody's favorite business-building tool is back with new training designed to take your business to the next level.
Stellar Training Segments
The day was packed with invaluable training segments from top leaders like Herb Cepeda, who went in depth about why network marketing is the business of the future, and Peta Kelly-Coover, who hosted an inspirational segment about finding your energy and fire.
Isagenix leaders Rita Catolino, Danielle Thompson, and Ellen Bradley-Ganus took the stage to go over the ins and outs of how to approach prospects, how to use social media to market yourself and connect with people, and more!
Fun Moments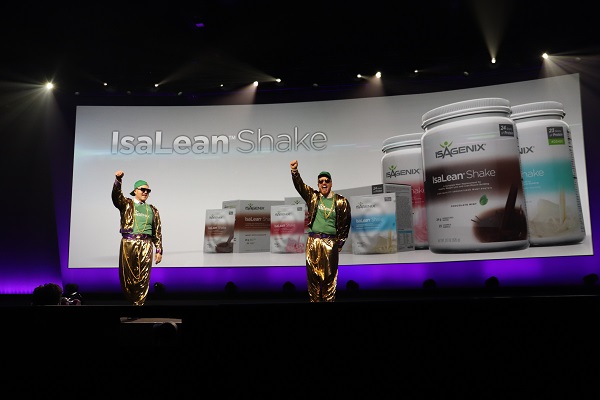 NYKO delivered oodles of invaluable training, thrilling product and tool releases, and lots of fun! Here are some of the moments that had everyone beaming and cheering.
Our Isagenix corporate staff transformed into dancers! A hysterical video  of our dancing corporate staff took over the big screen while our Chief Sales and Marketing Officer, Travis Garza, and our Director of Sales Strategy, Jon Raynes, broke it down onstage to celebrate the announcement of the Chocolate Mint IsaLean – and it was fantastic.

Team up with Isagenix! Today, we announced that we are sponsoring elements of tonight's basketball game where our home team, the Phoenix Suns, will battle the Houston Rockets! Come out, and watch the game with your Isagenix family.
The Heart of Isagenix winner was recognized! Your votes are in, and after weeks of anticipation, Jim and Kathy Coover took the stage to award the 2018 Heart of Isagenix winner.
Special Make-A-Wish® Segment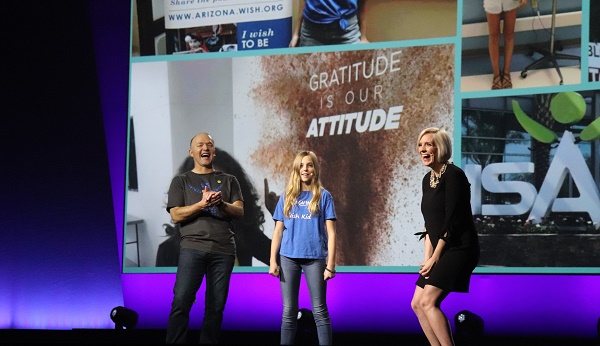 Today, at NYKO, we met Madison, who told us about her big sister Mia. Mia is a brave teenager with a bone marrow disorder called Diamond Blackfan Anemia – an illness she's bravely battled since infancy. Read about Madison's appearance at NYKO and Mia's story, including her only chance for a cure.

Watch How NYKO Unfolded on IsagenixLive
Don't forget that you can rewatch all the NYKO excitement on IsagenixLive™. Ticket holders have on-demand access for up to 90 days after the event. On-demand access begins Wednesday, Jan. 17, but you can head over to IsagenixLive.com right now to watch the event replays! Don't have a ticket? Don't worry. You can access the event for US$50 at IsagenixLive.com today.
See you all tomorrow! Check back to IsaFYI.com for another recap of tomorrow's  exciting NYKO happenings!
​​†This statement has not been evaluated by the Food and Drug Administration. This product is not intended to diagnose, treat, cure, or prevent any disease.