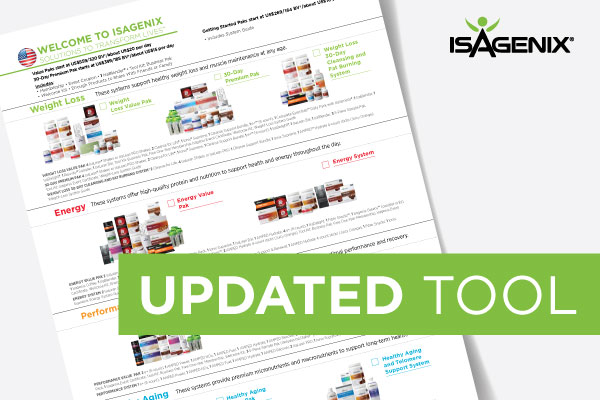 Great news! We've enhanced the new Member sign-up process in your Back Office to make it easier and more secure than ever to open a Member's account and place their initial order. Plus, when you're on the go, the New Member Form is a convenient way to get new Members started.
Print a few copies, purchase a New Member Form tearpad, or download the recently updated form to all of your devices today so you're always ready to guide a new Customer through our most popular paks, flavors, and add-ons – wherever you are.
What's Changed?
Increased security – The security and safety of our Customers is our top priority. The credit card fields have been removed to minimize the exposure of your Customer's confidential information as well as your responsibility. We recommend that you ask your Customer to provide this information over the phone when you are able to submit the order in your Back Office, or complete a three-way call with Isagenix Customer Care (877-877-8111).
Systems, paks, and products – We're always offering the latest and greatest products and scientifically developed combinations of those products. Walk your Customers through the paks and systems that are ideal for first-time Customers with the right pricing and BV.
Customer First enhancements – Help your new Member join the right way. Welcome your new Customers to upgrade their discounts through a Preferred Customer membership and Autoship. Then if they are interested in becoming an Associate, you can help them convert their membership accounts at no charge.
Isagenix has Solutions to Transform Lives™ and the tools to help you share them. Download your New Member Form at IsagenixBusiness.com today.