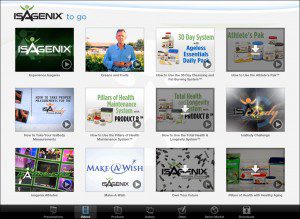 Did you hear? The IsagenixToGo app on your iPad, Android or iPhone has been updated with exciting new features that makes giving your next on-the-spot presentation even easier!
The new updates include:
2012 Fall Product Catalog
New products like the Isagenix Brain and Sleep Support System
…plus much, much more!
To take advantage of this tool's incredible enhancements, start with an Internet connection and select the videos, sales sheets, presentations and images you want while you're "on the go." They'll automatically download to your device and be available whenever you need them.
For more tech-savvy information, visit IsaGeeks.com.
*Local file downloads may be limited to the storage capacity of your mobile device.