Meet the two newest features in the Isagenix product line—the Energy Solution and the Performance Solution—tailored to fit your specific needs.
Research tells us that nutrition for these two groups is quite different. Now, these two solutions are specifically targeted to meet the needs of each group.
With the introduction of two new products, AMPED™ Power and Isagenix Coffee, the time is right for these two new solutions. Isagenix now offers a total of FIVE Solutions to Transform Lives™: Weight Loss, Healthy Aging, Wealth Creation, Energy, and Performance.
Whether you're looking for the energy to make it through another busy day, or you're hoping to gain an edge in your performance, we have the pak to meet your needs.
Energize Your Day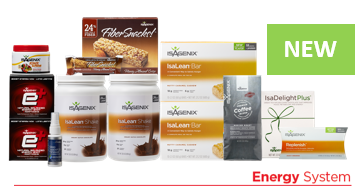 In 2014, energy drinks accounted for $12.9 billion in the United States. Clearly, the demand is high for those looking for a way to boost their energy each day. Do you fall into this category? If so, we have the solution for you.
The Energy System offers a mix of high-quality protein and superb nutrition to help you improve your health and feel vibrant and alert throughout the day. It is designed to help you live your best life with comprehensive, energizing nutrition.
With products like Isagenix Coffee, e+™, and Ionix® Supreme, the Energy System supports the busiest of lifestyles by helping you manage stress and keep up the momentum.
Essential for the college student, tired worker, or busy mom, the Energy System can help you make the most of your time by staying energized.
Improve Your Performance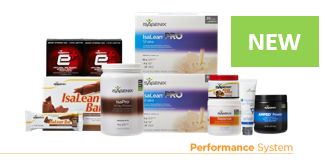 The Performance Solution offers a mix of nutrients, energy boosters, and high-quality protein for muscle growth and recovery while helping you achieve a tighter, leaner physique, and experience optimal performance.
Sports nutrition is becoming a well-studied discipline, and we are learning more about what specific nutrition athletes and other active individuals need in order to get the most out of their workouts.
This new, specialized solution targets the needs of athletes. From the top-quality protein in IsaLean® PRO Shake and IsaPro® to the three function-enhancing ingredients in our new AMPED™ Power pre-workout drink powder, give your body the nutrition it needs to maximize gains from your exercise and training. Stay hydrated with Replenish™, enjoy an energy boost with e+, and  stay on track with soothing Isagenix Pain Relief™ Cream.
If you're an endurance athlete, a bodybuilder, a professional athlete, or somewhere in between, the Performance System has the products you need to fuel your body and accelerate gains in strength and muscle.
Community Support
One of the premier benefits of the new solutions is the sense of community and support that they create, allowing you to offer your teams and business builders a more targeted approach to reaching two niche audiences. In addition, we can provide specific support to each of these groups.
"The key with a solution pak is that we can provide system guides and support in terms of how to use the products correctly," says Isagenix Chief Executive Officer Kevin Adams. "This is beneficial in terms of building community, because you know everyone with the system is using similar products."
View the solution that's right for you in your Back Office.