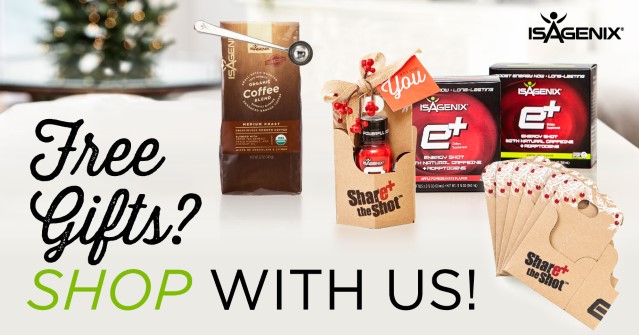 UPDATE: The 2017 Seasonal Catalog and its featured products are no longer available for purchase.
Can you hear that? It's a familiar tune…
'Tis the season to be healthy, fa-la-la-la-la-la-la-la-la!
OK, so it's not quite the original you're used to, but we think it's just as catchy and cheerful. What's got us in the singing mood you ask? It's two NEW Healthy Giving offers running in our 2017 Seasonal Catalog! Right now, you can take advantage of these exclusive promotions while supplies last:
Get a FREE engraved stainless steel coffee spoon clip when you purchase any Isagenix coffee blend.*
Get a set of six FREE e+™ gift holders when you purchase two e+ energy shots (any flavor).**
These are sure to get you in the spirit of giving! And best of all, this is the perfect opportunity for you to share Isagenix with a friend or family member at no additional cost!
Know any coffee lovers? Our one-of-a-kind spoon clip can perfectly measure your morning cup of joe while also serving as a closure to keep your coffee bag secured for maximum freshness!
Perhaps you or someone close to you desires a little pick-me-up during these busy shopping days ahead. e+ is the perfect partner to help you or the ones you love power through this time of year, using natural balanced energy!
Help Spread Health and Good Cheer
We've made healthy living and giving possible this holiday season with these limited time offers. Just remember, if it's good enough for you, then it's good enough for the ones you care about, too! Family, friends, colleagues, it makes no difference – everyone is deserving of quality nutrition you can trust.
Place your orders now, quantities are limited, and these two offers are only available while supplies last. Check out the 2017 Seasonal Catalog today!
*This promotion is valid in the U.S. only.
**This promotion is valid in the U.S. and CA.