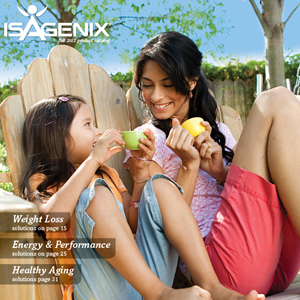 Whether you're looking to share Isagenix® with a friend, enroll a prospective new Associate or add any one of our exciting new products to your monthly Autoship order, the 2012 Fall Product Catalog is coming and it's our best ever. What's more, you can get this tool for free.
By signing up for Autoship and taking advantage of its incredible price benefits, you also receive exciting promotions and tools for free like the new 2012 Fall Product Catalog. To get our latest catalog delivered to your doorstep for free, remember to set up your Autoship. It's really that simple!
The Product Catalog features more than 100 colorful pages and is conveniently organized into exciting new solutions-based categories to make it easier for you (and your new enrollees!) to find the right solution every time. Discover the newest Isagenix products and inspire your team with product testimonials from real Isagenix Associates.
To purchase this hot-off-the-press sales tool and share it with your team, visit IsaSalesTools.com or visit IsaProduct.com.
This post is also available in: Spanish