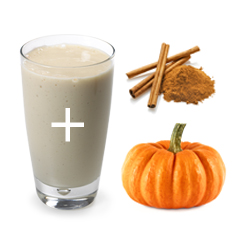 Looking for a new fall favorite to add to your expanding recipe collection? Then, this new Pumpkin Spice Latte is the perfect treat to jump-start any cool-weather festivity.
Submitted by Aubrey A. as part of our recent IsaLean® Shake Facebook contest, this delicious new weight-loss shake mixes our new Creamy French Vanilla with organic pumpkin and cinnamon to create a delicious new drink that smells and tastes just like pumpkin pie.
The best part, pumpkin is a low calorie, nutritional powerhouse filled with vitamins, minerals, antioxidants and fiber, known to help you stay healthy and feel fuller longer.
To make Aubrey's incredible Pumpkin Spice Latte, you'll need:
2 scoops IsaLean® Shake in Creamy French Vanilla
1 tbsp. of organic pumpkin
Pinch of cinnamon
6 oz. of water
3 ice cubes
Blend in the IsaBlender® and enjoy
Do you have a healthy, tasty recipe featuring an Isagenix product that you'd like to share? If so, send it to Recipes@IsagenixCorp.com.
For more low-calorie recipes, go to Isagenix.com's "Products" tab and select "Product Resources" to locate our "Recipes."