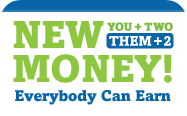 Are you wondering how Isagenix® determines your current rank status or perhaps where to locate your new rank status with the New Money promotion, available October 22, 2012 to August 4, 2013? We've got your answers!
Join Isagenix Vice President of Sales Travis Garza, Director of Sales Mac Larsen and Director of Field Development Erik Coover in a short, pre-recorded conference call as they guide you through the most commonly asked questions associated with the New Money promotion.
Become crystal clear on how this promotion can help explode your team and help you earn extra bonus money just in time for the holidays.
Access the frequently asked questions directly from the New Money flyer or log in to your Back Office "Contest & Promotions" tab to locate the New Money box and "Listen to Additional Frequently Asked Questions."