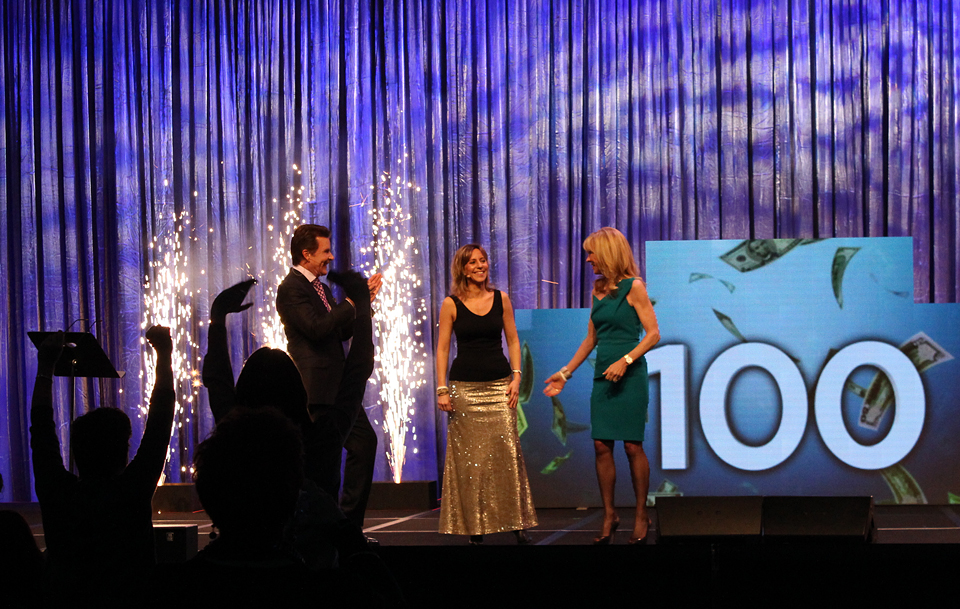 Isagenix Welcomes 100th Millionaire
Alexis was working three jobs when she was introduced to Isagenix and had absolutely no desire to attend an opportunity meeting. Her days began as a guidance counselor and ended either tutoring or waitressing. What little time she had left was reserved for her family.
She did, however, purchase the 9-Day Deep Cleansing and Fat Burning System. After a few days, Alexis felt an increase in energy, which was followed by a boost in happiness. That convinced Alexis to make the products a staple in her diet.
"I had no idea about the President's Pak at the time or I would have purchased it," laughs Alexis. "So, I just purchased a ton of other products."
After being on the products a few months, Alexis decided to attend a local Opportunity Meeting. She heard several inspirational stories, but related to the story of a fellow educator. After introducing herself to him at the second meeting, Alexis inquired more into his story. She learned he recently retired from the education industry due to his Isagenix business and she decided she was determined to do the same.
From the Classroom to Center Stage
"I was not an overnight success," admits the 9-Star Platinum and 3-Star Executive, who has earned over $850,000 in the last year. "In fact, it was a long process and up until a year ago, I had no idea what I really was doing."
Starting in 2008, Alexis grew her business by one "momtrepreneur" at a time. On the days she was frustrated, she would tell herself, "The only way to fail is to quit." Failure was not an option for the New Jersey native.
She stayed focused by tuning in every Monday to Isagenix Millionaire, 15-Star Platinum and 12-Star Crystal Executive Susan S.'s team call. She also read all of Susan's books. Alexis knew if she was going to succeed in an industry she knew very little about, she needed to educate herself.
Her team, which also includes her sister, 6-Star Golden Circle and 3-Star Executive Tara R., and her three brothers, Joseph R., who's a 3-Star Silver Circle and Director; Philip R., who is a 4 Star Silver Circle and Consultant; and Michael R., who is a 2 Star Silver Circle and Consultant, still tune in to Susan's call every Monday.
That insight paid off! Over the past year, Alexis has shared her passion for Isagenix with confidence, exploding her business and propelling Isagenix to achieve a new milestone. As a result, Alexis accumulated enough income to skyrocket her to achieving the title of 100th Isagenix Millionaire!
"People are always looking to make money," adds Alexis. "It's just finding those people who share the same passion as you."
Thanks to her success, Alexis has been able to retire herself, her mom, plan a trip to Italy in June and live in an apartment with views of New York City. She's also fulfilling another dream; opening up a gym later this month. The gym, called Krank Fitness, will feature tons of Isagenix products.
"I learned I had to change my mindset to say I deserve to work with these people and they deserve to work with me," shares the newly-minted 100th Millionaire. "The Isagenix opportunity has been life changing."
*Earning levels for Isagenix® Independent Associates that appear in this publication are examples and should not be construed as typical or average. Income level achievements are dependent upon the individual Associate's business skills, personal ambition, time, commitment, activity and demographic factors. For average earnings, see the Isagenix Independent Associate Earnings Statement found at www.IsagenixEarnings.com.