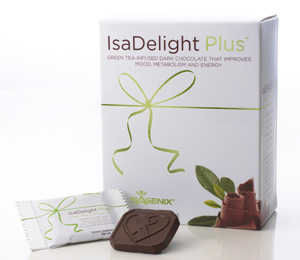 It's here! The new IsaDelight Plus has arrived and is ready for orders.
We just launched the new IsaDelight Plus at Isagenix® University and it received rave reviews!
Isagenix Millionaire and 7-Star Golden Circle Susan S. from Ontario says:
"IsaDelight Plus is incredible. I am excited about the addition of green tea for even more antioxidant protection. My hunger was kept at bay for hours and I felt more energized and focused."
Our new power-packed, creamy dark chocolate IsaDelight Plus includes green tea, which provides an antioxidant boost while helping to curb cravings, increase fat metabolism, enhance mood and boost energy. And, the naturally-occurring EGCG from the green tea provides powerful, free radical-fighting antioxidants to provide your body with even more protection.
Formulated by IsaDelight® Formulator Dr. Paul Anderson, IsaDelight Plus also features European-grade dark chocolate with a  decadent, creamy texture that will satisfy your chocolate craving without the guilt—they're only 50 calories per treat! Another bonus? Just like our original IsaDelight®, IsaDelight Plus contains a special blend of B Vitamins, minerals and essential amino acids to provide optimal mental energy.
So kick your Cleanse Day cravings to the curb and give your brain (and your body!) a healthy boost with the new IsaDelight Plus.
Visit IsaDelight Plus.com for more information on this exciting new product.
Tune in to the Product Training Program on Thursday, October 14 at 6 p.m. Pacific Time to hear even more about this product from formulator Dr. Paul Anderson. Here's recording of the call, available on IsagenixPodcast.com.