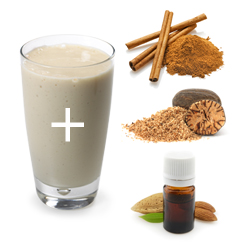 What better way to get in the holiday spirit than with a Fall Festive Shake?
Submitted by Aleta R. as part of our IsaLean® Shake Facebook contest, this maintenance shake blends our new Creamy French Vanilla IsaLean Shake with a dash of cinnamon, nutmeg and almond extract. It's super simple to make and delicious.
The best part, not only doesn't this colorful shake smell amazing, but it boasts a bevy of health benefits, too.
To make Aleta's delicious new Fall Festive Shake recipe, you'll need:
2 scoops of IsaLean® Shake in Creamy French Vanilla Shake
Dash of cinnamon
Dash of nutmeg
Drop of almond extract
Blend in IsaBlender® and serve
Do you have a healthy, tasty recipe featuring an Isagenix product that you'd like to share? If so, send it to Recipes@IsagenixCorp.com.
For more low-calorie recipes, go to Isagenix.com's "Products" tab and select "Product Resources" to locate our "Recipes section."