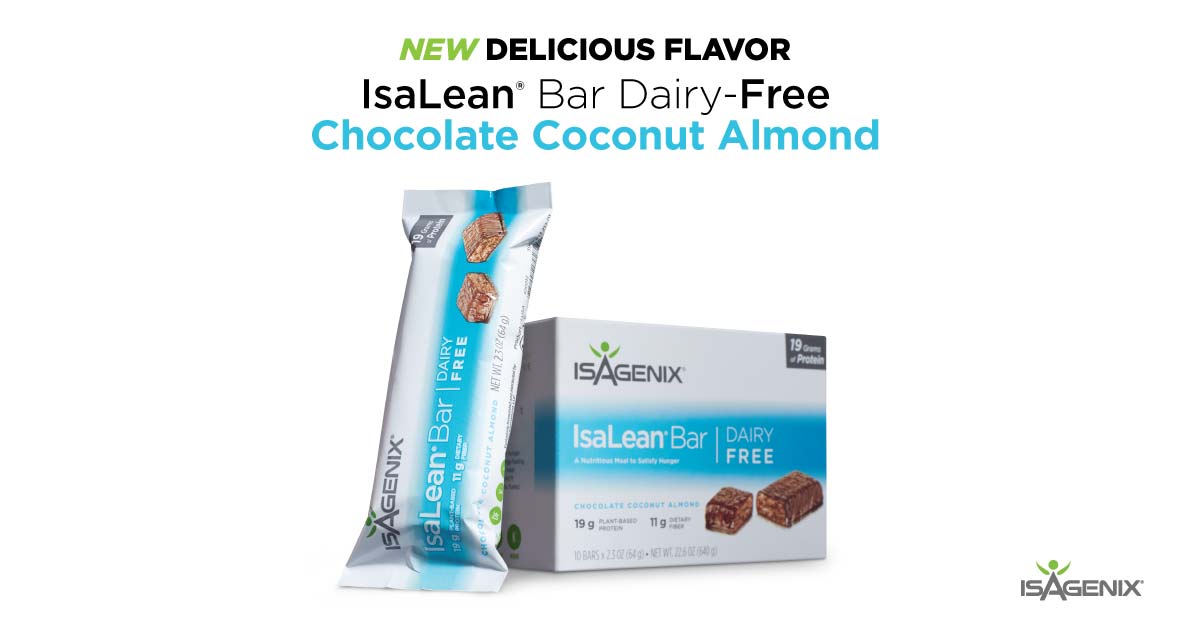 Dairy-Free & Delicious Made Possible 
This is a product worth shouting for: IsaLean Bar® Dairy-Free in another great flavor, Chocolate Coconut Almond – making your plant-based options more delicious and delightful.
Perfectly Plant-Based 
At Isagenix, we understand the importance of offering options. That is why we continue to expand our dairy-free selections. We know that for some, eating a plant-based diet is not a choice but a requirement, due to a variety of health conditions. So, for this reason, Isagenix makes a no-compromise commitment to provide our consumers with plant-based products that are safe and effective. Everyone should be able to benefit from the power of plant-based nutrition. These are just a few of the unique features of our new Chocolate Coconut Almond IsaLean Bar Dairy-Free:
19 grams of protein.
11 grams of fiber.
No artificial flavors, colors, or sweeteners.
Vegetarian-friendly, soy-free, and gluten-free.
Powered by Plants
The new Chocolate Coconut Almond flavor extends your options for plant-based Isagenix products, and it shares many of the same amazing benefits of the traditional IsaLean Bars including:
Nutritionally complete, high-quality protein.
Energy-fueling carbohydrates and good fats to leave you feeling satisfied.
Most plant-based options tend to lack all the necessary nutrients the body needs to thrive; however, our dairy-free bars rank supreme when it comes to nutritional value. The new Chocolate Coconut Almond flavor, as well as the remaining dairy-free bar lineup, all contain a powerful protein combination of pea and whole-grain brown rice for making a complete protein and amino acid profile. Fiber sourced from chicory root and chia seed complement this profile.
Enjoy a taste of paradise in every single bite!
Visit your Back Office, and add this new flavor to your Autoship today.