Share Isagenix With Ease
Isagenix works continuously on creating new tools to help you connect with others while also enhancing existing ones to serve you better. At New Year Kick Off (NYKO) in San Antonio, Texas, this year, Isagenix unveiled quite a few exciting connecting and sharing tools. Check them out!
New: 'Today Is the Day' Video
Introduce new Customers, and let them experience Isagenix like never before with the brand-new "Today Is the Day" video. Take the inspirational journey alongside real Isagenix Customers to see how our solutions really do have the power to transform lives. Share this powerful, new video through your IsaTools™ app or IsaMovie.com.
New: 'Fast-Track to Executive' Video
Isagenix Co-Founder and Executive Vice President Kathy Coover teaches you how to build an Isagenix business in this compelling, new video. Watch and share with your team to realize the incredible earning opportunity available to you through the Isagenix Team Compensation Plan. Watch the video at FastTrackToExecutive.com.
New: 'You Share, They Share, Repeat' Video
Learn the Isagenix business-building basics to help you earn money while sharing your transformation and favorite Isagenix products with others. Learn how to earn bonuses while you build your team and grow with Isagenix. Watch the full video at IsagenixBusiness.com.
New: 90-Day Action Plan Workbook
Formerly known as the 90-Day Game Plan, the brand-new 90-Day Action Plan is one of the most powerful and innovative business-building tools ever developed at Isagenix. Through this workbook and program, you receive free, at-home business-building training from the 2017 NYKO 90-Day Action Plan trainers. Get your workbook, and register for the 90-Day training in your Back Office under the "Training Center" tab. Training begins on January 23! Download a 90-Day Action Plan at IsagenixBusiness.com, or purchase a hard copy at IsaSalesTools.com today!
New: IsaTools App & IsaTools Pro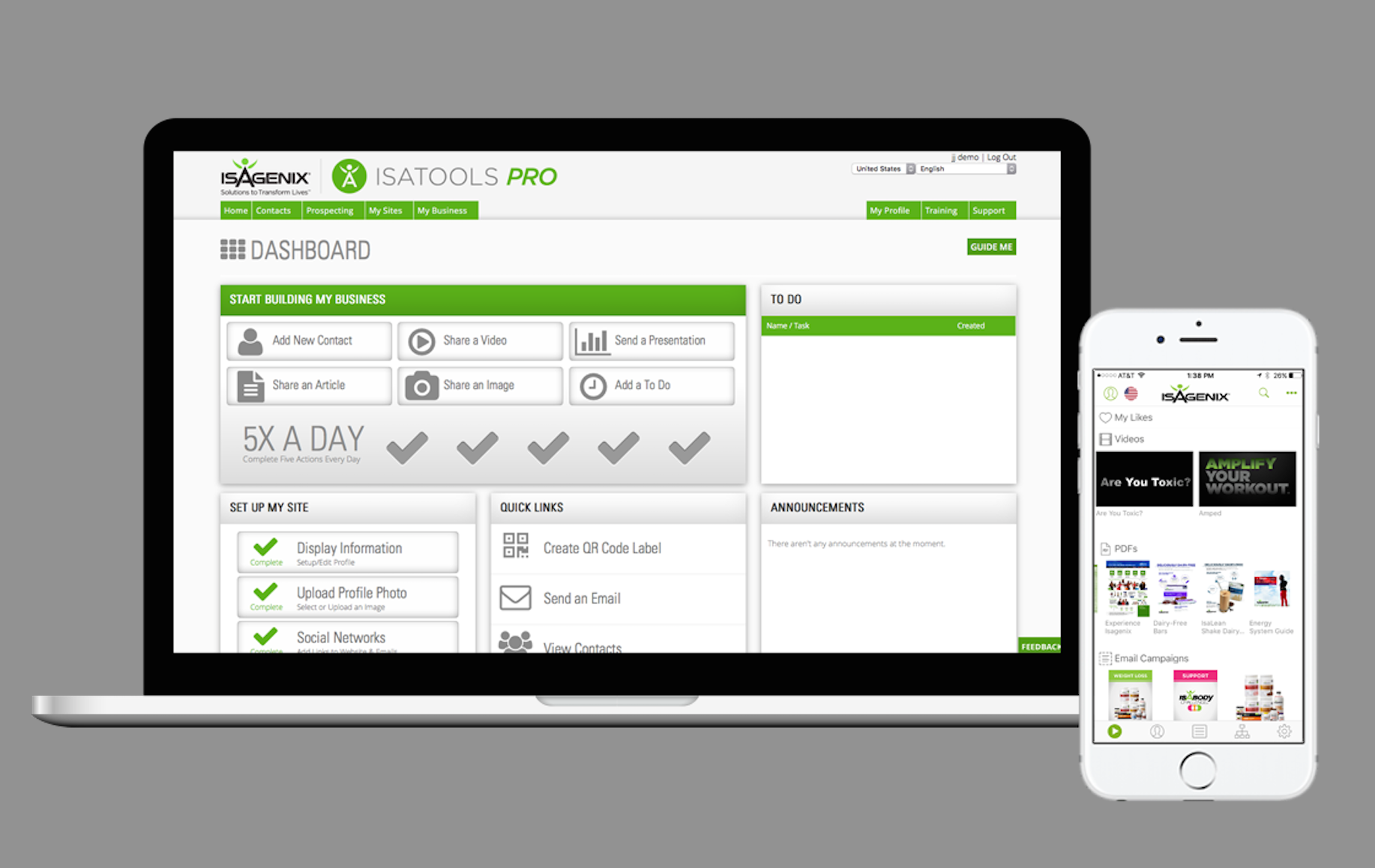 Share videos, PDFs, articles, and images in a few simple clicks with the IsaTools app. Your favorite sharing tech is now supercharged with new features including contact management and email drip campaigns. Follow-up with Customers is a breeze, and training and accountability with your team have never been easier! Learn more about the IsaTools app and the IsaTools Pro version. Download the IsaTools app today through Google Play or the App Store. Then sign up for your IsaTools app account in your Back Office, and share Isagenix easily!
New: 2017 Spring Isagenix Product Catalog
Discover the entire line of Isagenix Solutions to Transform Lives™ in the brand-new Isagenix Product Catalog! This new catalog makes it easier than ever to share the features and benefits of each of our scientifically formulated products and systems. View and download the 2017 Spring Isagenix Product Catalog. Or purchase a pack at IsaSalesTools.com, coming early 2017.
New: #STARTYOURLIFE Magazine
The latest issue of this highly anticipated magazine is here, and it's packed with inspiring stories of Isagenix Associates who have risen above the status quo and worked to live a life by their own design. Read about the START Your Life movement and how START members all over the globe are living healthy lifestyles, inspiring others, and taking ownership of their futures. Purchase a pack to share at IsaSalesTools.com.
New: Science Behind Isagenix Clinical Studies Fast Facts
You don't have to be a scientist to share the scientific findings behind these third-party validated product studies! Learn all the key points on the four most recent clinical studies of Isagenix products, and share the incredible results with ease! Download the one-page PDF at IsagenixHealth.net.
Updated: 2017 IsaBody Look Book
Share the best – and latest – IsaBody Challenge® success stories and incredible "before" and "after" photos. Perfect for Launch Parties and one-on-one meetings, this book will be one of the most powerful recruiting tools in your toolbox! You can check out and share the IsaBody™ Look Book in the IsaTools app and purchase a hard copy now at IsaSalesTools.com.
Updated: The IsaBody Challenge Journal
The latest and greatest 16-week IsaBody Challenge Journal helps you stay on track and accountable to your health and wellness goals. Record your milestones, mix up your routine with delicious Isagenix product recipes, and learn helpful tips for success. Start and complete your IsaBody Challenge, and track your progress in the journal available at IsaSalesTools.com, or download a PDF version at IsaBodyChallenge.com.
Updated: Isagenix for Families Brochure
Isagenix has solutions for the entire family. Educate parents interested in establishing healthy eating habits and setting the stage for a lifetime of balanced and healthy nutrition with the updated Isagenix for Families brochure. Order a pack to share at IsaSalesTools.com.
Updated: Social Media Success Guide Version 2.0
Effectively represent yourself and Isagenix the right way by following this completely updated and comprehensive Social Media Success Guide. With dozens of practical guidelines and even more visual, real-life examples, this guidebook provides a thorough yet simple presentation of how to create a focused and compelling social media presence. This updated content covers new social media platforms, fresh strategies, and tips for sharing your Isagenix business with a limitless network of people across the world. Order yours today at IsaSalesTools.com.