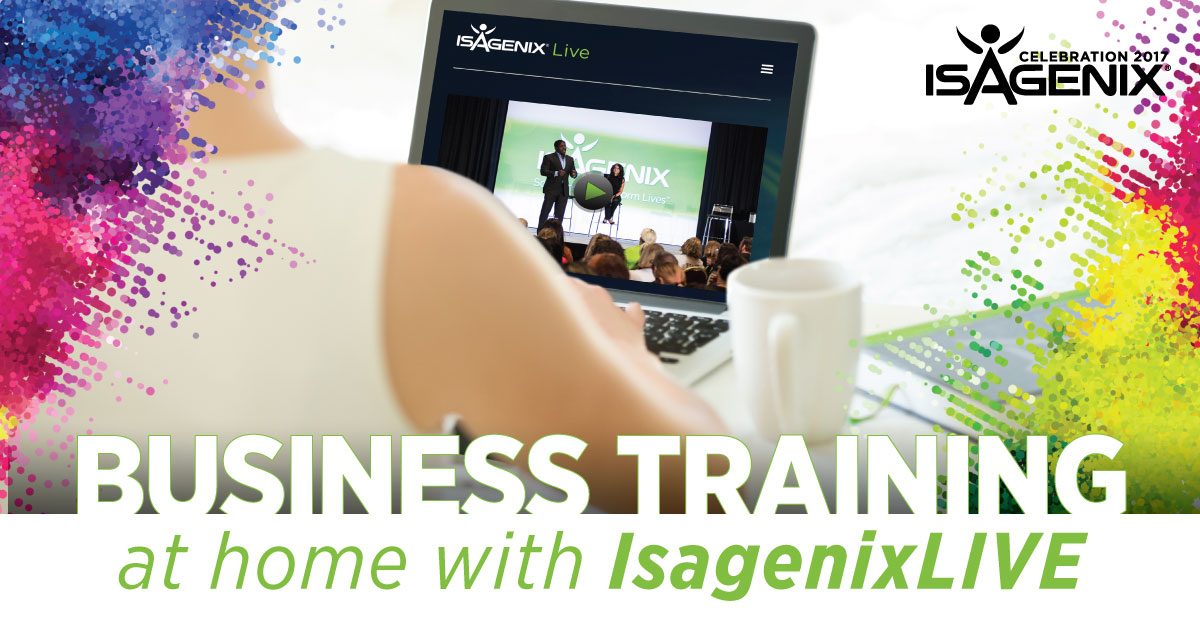 We understand that things come up and scheduling conflicts may prevent you from attending Global Celebration 2017 in Las Vegas, which is why you can enjoy FREE access to all Day 1 events and training at IsagenixLive.com Sunday, Aug. 6!
Watch the Global Opening Experience where we highlight the international markets, an inspiring address from Isagenix Owners Jim and Kathy Coover, and the exciting launch of new, revolutionary products. You will receive invaluable training on what the new products can do for your health and your business, so you can share this training with prospects and new team members.
Watch the entire four-day event LIVE from your home by purchasing a ticket for only US$99 to access all Global Celebration 2017 on IsagenixLive™ Aug. 6-Aug. 9. We're bringing you keynote 90-Day Action Plan training sessions, select in-depth Breakout Sessions, Executive Leadership updates, must-see entertainment, exciting recognition segments PLUS a multi-hour keynote special with Tony Robbins.*
Tuning in to Global Celebration on IsagenixLive can provide huge results. Allow top trainers to transform the way you approach business building with new skills and tools to set you up for success for the rest of the year. Rewatch all the action up to 90 days* on demand following the event (Tony Robbins' keynote will only be available for 30 days). These segments feature translations in Spanish, French, Mandarin, and Bahasa Indonesia.
Enjoy access to all the action in real time, receive exclusive behind-the-scenes content, interviews, live Q&A with presenters, and special product coupon codes just for IsagenixLive viewers.
Tell your friends and team members that they can watch Day 1 of Celebration on IsagenixLive for FREE! Then purchase your ticket to stream the full event by visiting IsagenixLive.com.
*Tony Robbins' keynote address will only be available on demand for up to 30 days after the event.