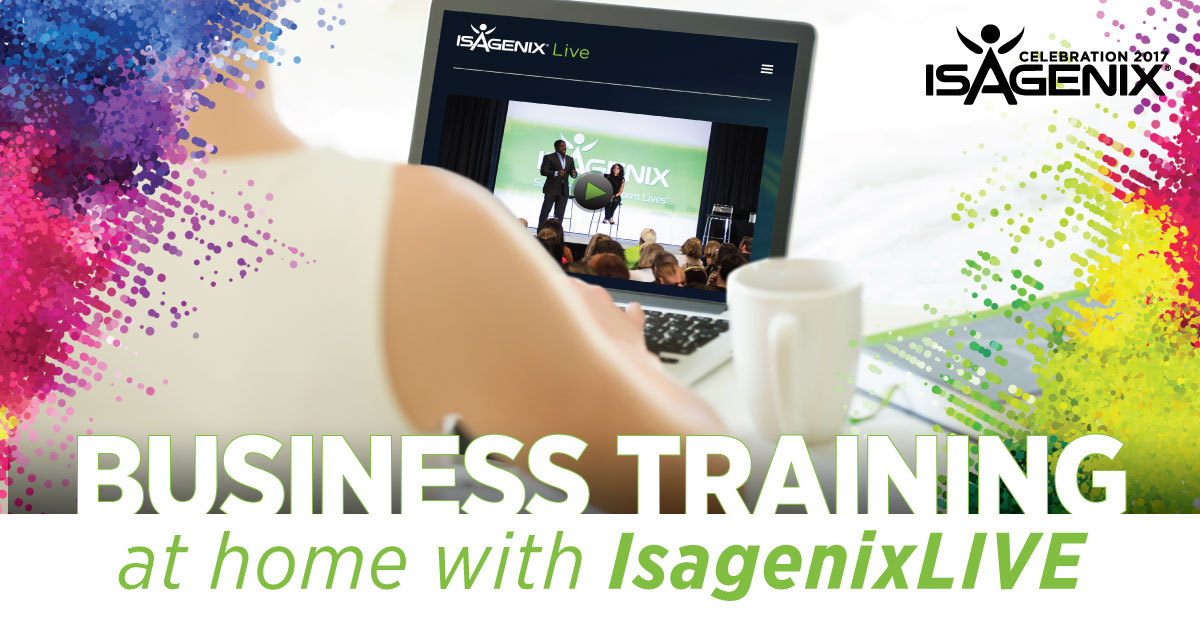 As a network marketing professional, we know and value the importance of continued learning and training. That's why, here at Isagenix, we put such an emphasis on our one-of-a-kind events. They are designed to bring you invaluable skill set, mindset, industry, and product training sessions taught by the top leaders in our company to help you launch your business to new heights!
We understand that things come up and scheduling conflicts may prevent you from attending some of our events, but there is no reason for you to miss out on the life-changing training! Isagenix offers LIVE full access to select Isagenix University events, New Year Kick Off, and Celebration at IsagenixLive.com.

We encourage you to take advantage of the great opportunity to stream our events on IsagenixLive™ and reap the benefits of watching all the inspiring and informative trainings from the comfort of your home. Tuning in to an event on IsagenixLive is a low-cost option that can provide huge results. Ticket prices are affordable, ranging from $50 to $99 depending on the event. Not only are you able to watch all the action in real time, but you also have access to exclusive behind-the-scenes content and interviews and live Q&A's with presenters. Then you can rewatch the training sessions for up to 30 to 90 days after, depending on the event.
Watch Celebration 2017 on IsagenixLive!
Are you unable to attend the upcoming Celebration 2017 in Las Vegas? Tune in to Celebration 2017 on IsagenixLive!
Celebration, the biggest flagship event of the year, is being streamed LIVE from Aug. 6 to Aug. 9, 2017, for only $99. We're bringing you keynote training sessions, in-depth breakout sessions, the highly anticipated product launch, and exciting recognition segments PLUS a keynote special with Tony Robbins. You can kick back and relax in the comfort of your own home and allow top trainers to transform the way you approach business building and equip you with new skills and tools to set you up for success for the rest of the year. Then you can rewatch your favorite segments on demand for up to 90 days following the event.
Tickets are now available for Celebration 2017 on IsagenixLive, so head over to IsagenixLive.com to secure yours!