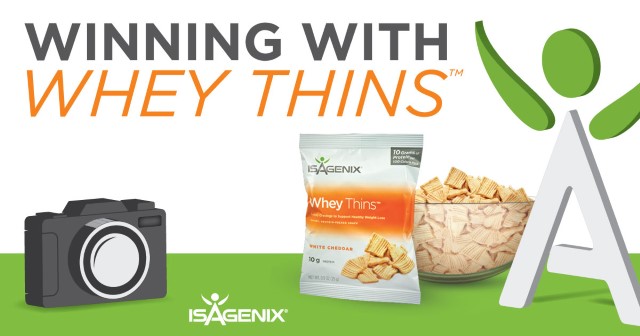 A little bit of a good thing can go a long way. Whey Thins™ are no exception – whether you share, snack, or simply grab a bite or two, these powerful, protein-packed snacks continue to rise in popularity. Our Whey Thins Photo Contest was proof of just that! With an array of features and benefits, it comes as no surprise these snacks have such a large following:
A delicious, nutritious, protein-packed snack alternative.
10 grams of high-quality undenatured protein.
Convenient 100-calorie individual packs.
Gluten-free.
Approved for Cleanse Days.
We heard (and saw) from so many of you about how Whey Thins have changed the way you snack! We were overwhelmed with all the photo submissions. It was a lengthy task, but we were able to narrow down three lucky winners of a three-month supply of these savory snacks. Here's what each of them had to say:
   

"I enjoy them because they are satisfying and keep me full for a long time. I plan to grow my business by sharing some of my free Whey Thins with family and friends. That way, they can experience how delicious the products are." – Katie G. from Rocky Hill, Connecticut 
    

"My favorite flavor is definitely white cheddar. No, barbecue. No, wait! Sour cream & chive! Oh, I really love them ALL!" – Micheline M. from Manitoba, Canada   
 

"I've always been a snacking person. Even if I'm not really hungry…Now, thanks to my favorite White Cheddar Whey Thins and its 10 grams of protein, I'm able to have the right portion and feel satisfied with just one bag." – David M.
When all is said and done, at the end of the day, we are all winners when it comes to our health. The best part of this journey is being able to share in your success. So don't delay adding Whey Thins to your next order.
Snack smarter, snack savory, snack the right "whey!"