From January 14 to January 16, thousands of Isagenix Associates joined us in San Antonio, Texas, for 2017 New Year Kick Off. This action-packed event was filled with new flavor launches, 90-Day Action Plan training with Kathy Coover, and highly anticipated sales promotions – making it the best yet!
In one of our favorite event segments, we had the opportunity to recognize some of our extraordinary athletes and leaders and announce them as our 2017 Team Isagenix Ambassadors. We are so honored to have them as representatives of Isagenix.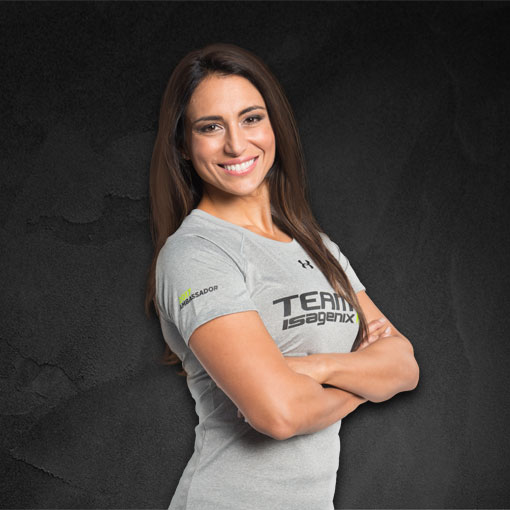 Angelike Norrie
5-Time Fitness Cover Model
Scottsdale, Arizona
Before winning fitness championships, Angelike worked in corporate America as a sales executive, working 60 hours a week. Eventually, she left her desk to earn three fitness titles and appear on five magazine covers, including twice on Oxygen.
As an elite athlete, Angelike may have looked the part, but she never felt it. She craved top-tier nutrition that would help her train, recover, and perform and finally found the answer with Isagenix.
"We have to choose products that support the demand we place on our bodies," she says.
Angelike is committed to sharing Isagenix with others and says Team Isagenix provides her the leverage she needs to connect with fellow athletes.
"I can cast the vision for a long-term opportunity that doesn't compromise an athlete's ability to market themselves. With Isagenix, we can truly stand behind this company while creating a financial legacy for our families."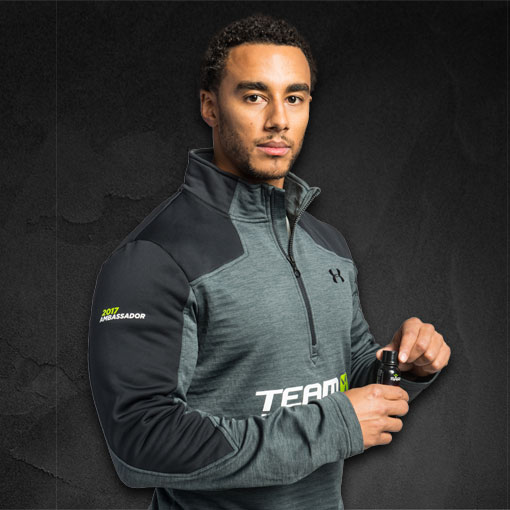 Trevor Hairston
Musclemania Men's Physique Pro and 2016 Fitness Universe Sports Fitness Model
Champion Plainville, Connecticut
Following a back injury, retired athlete Trevor was unable to exercise and needed a solution to help him recover. He found success with Isagenix and has now taken the stage numerous times as an elite bodybuilder, claiming titles at many events including first place in the Sports Fitness Model division at the Fitness Universe Championships.
"I chose Isagenix because I was looking for products that are backed by science, have pure ingredients, and produce results, and I chose to join this team for the amazing business support," says Trevor.
Trevor is a huge fan of the AMPED™ Performance line and uses the products to supplement his daily workouts. Team Isagenix helps him share that experience and grow his business.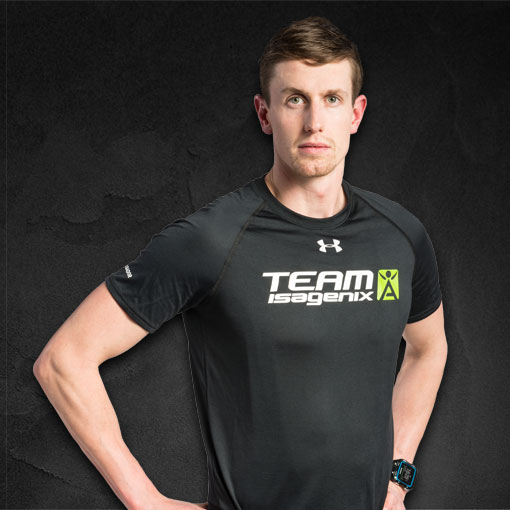 Jason Pohl
Professional Ironman Triathlete and Ironman World Competitor
Calgary, Alberta
Jason grew up playing hockey until the age of 21. Knowing he wanted to transition into another sport, Jason found triathlon at 22 and has been racing ever since. He recently raced in the Ironman World Championship in Kona, Hawaii, in 2016 and will race full time this year as a professional Ironman triathlete at the age of 26.
Jason feels the AMPED Performance line has brought his performance to a different level, allowing him to tolerate a bigger work load during Ironman training.
"After a long training session when I'm feeling completely smashed, I take AMPED Recover and genuinely feel like I have a second wind," he says. "When it comes to getting to the next level and accessing potential you never thought existed, nutrition plays a huge role. As I continue to push toward my true potential as an athlete and business builder, I need to fuel my body with the best nutrition and have the best support. I get that with Isagenix."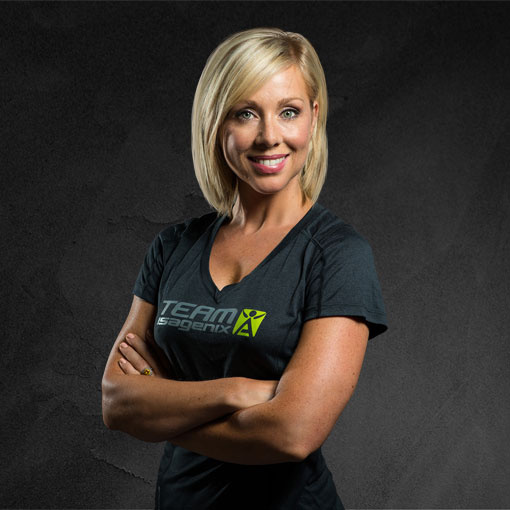 Rita Catolino
Certified Personal Trainer and Cover Model
London, Ontario
Rita started transforming her life long before Isagenix for the sake of her newborn daughter. She committed to a healthier lifestyle, and eight years later, Rita is a certified personal trainer, online coach, motivational speaker, fitness columnist, and cover model.
"Isagenix has the best possible products for all types of athletes. Whether you are a powerlifter and need the pre-workout, an endurance athlete who needs the right fuel, or a personal trainer who has various clients with different needs, Isagenix addresses everyone," Rita says. "Not only does Isagenix have the products, it also provides everyone the opportunity to grow a business and find their tribe."
For her, joining Team Isagenix was the natural next step. As Rita continues to share the products with those around her, she's loving the AMPED line. She uses AMPED Power on weightlifting days, AMPED NOx on yoga days, and AMPED Recover post-workout every day.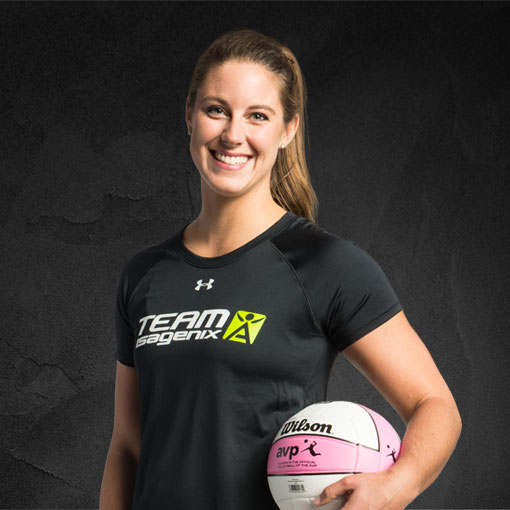 Kerri Schuh
AVP Beach Volleyball Professional
Appleton, Wisconsin
After five very successful seasons at the University of Wisconsin-Milwaukee, Kerri wrapped up her college career and went on to play professional indoor volleyball for another season. Now, she's fully committed to the outdoor game on the Association of Volleyball Professions (AVP) tour. Looking for a solution to her lack of energy, Kerri found the boost she needed with Isagenix.
To perform at an elite level, Kerri knows it's not just about the 15 minutes before and after a workout; it's also about keeping your body healthy and strong throughout the day. Isagenix gives her the convenient, balanced nutrition she needs to continue practicing, conditioning, coaching, and serving others.
"Not only does Team Isagenix help us play at our best, they help us set up our futures for success, supporting us long after our sport careers," she says.
Kerri uses Isagenix products and the entire AMPED Performance line every day, as pushing her body to its limits is a daily routine.
"My body is my job, so my job is to take care of my body!"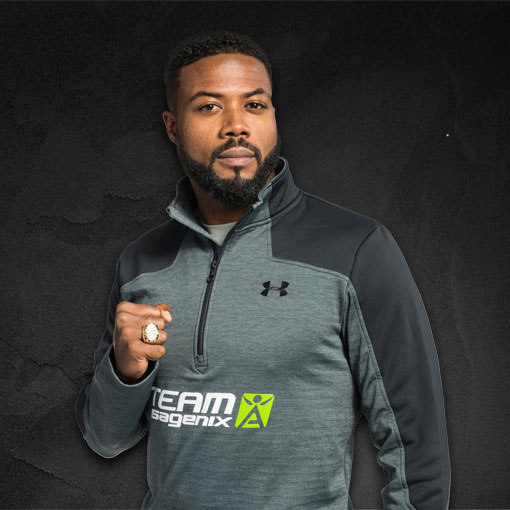 Justin Smith
Retired NFL Player and Super Bowl XXXVII Champion
Christiansted, U.S. Virgin Islands
After assisting the Tampa Bay Buccaneers in a Super Bowl victory as a linebacker, Justin eventually retired from the NFL and became a full-time school teacher. He continued to work out and take care of his health, but when he felt that what he was doing was no longer working, he turned to Isagenix for a change.
Blown away by the quality of the products, Justin couldn't believe Isagenix had a group to help him grow his business.
"It's all about the culture and the brotherhood that Team Isagenix provides," he says. "We're all natural leaders, but Isagenix helps us become great leaders. When I found out this amazing company had a group catered to athletes, I knew I had to be a part of it."
Justin is committed to using Isagenix products in his training and also aims to be a 3-Star Golden Circle by 2017 Celebration.
"I'm new to Team Isagenix, but I'm determined to utilize this resource in 2017 and hope to lead and inspire my team," he says.
If you're interested in learning more about this incredible group of athletes, or want to know if you have what it takes to be on Team Isagenix, visit TeamIsagenix.com to review our qualification standards and requirements. If you qualify, submit an application at JoinTeamIsagenix.com.
Find out why our athletes LOVE the AMPED Performance line at Isagenix. Lead researcher Paul Arciero, Ph.D., explains the incredible benefits to both women's and men's performance.