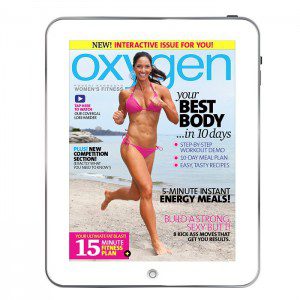 Congratulations to our very own Lori H. who is the face of Oxygen magazine's first-ever interactive app for iPads and tablets!
Since joining Isagenix® in July 2010, this 2-Star Executive, 6-Star Golden Circle accomplished fitness trainer has been aggressively growing her business, competing in multiple fitness competitions and winning back-to-back titles of Ms. Bikini Universe 2010, Ms. Bikini America 2010 and Ms. Figure America 2010. Her incredible accomplishments also earned her the cover spot on Oxygen magazine's September 2011 edition.
To get some of her favorite recipes and amazing workout tips, go to your preferred app store and download a copy today!
For more information on any of our IsaAthletes, visit IsaFYI.com.