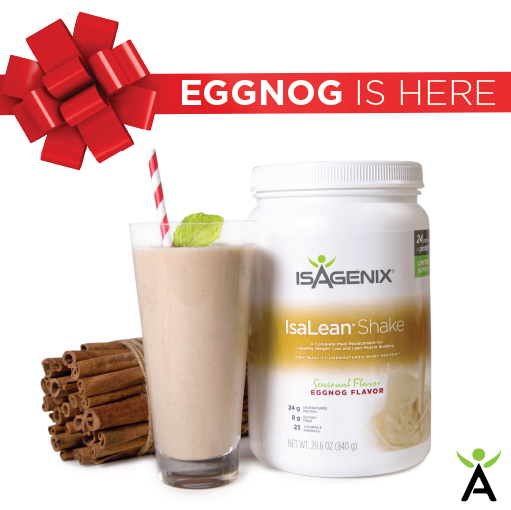 As of February 5, this product is no longer available.
For many, the holidays begin as soon as eggnog hits store shelves, so what better way to kick off the season than with our limited-time, seasonal Eggnog IsaLean® Shake!
This new shake is deliciously creamy and sweet with a hint of spice—the perfect blend of cinnamon and nutmeg. Complete serendipity.
Available in the U.S. and Canada, Eggnog IsaLean Shake canisters cost U.S.$39.95/27 BV and CA$44.95/27 BV.
Associates are so excited over this holiday favorite that we are removing the max limit on all orders. That means purchases of six or more will now receive a 10 percent discount—so you better act fast.
Since Eggnog is only available for a limited time, it cannot be added to monthly Autoship orders and is not available when building an Isagenix System or Pak. To place an individual wholesale order, log in to your Back Office and select the green "Place Order" button. Next, select "Continue with Wholesale Order." Our limited-time, seasonal Eggnog IsaLean Shake is located under the "New Products" tab.
Don't miss out on adding this limited-time seasonal shake to your holiday shopping list. Treat yourself and visit your Back Office to purchase today!