Think your IsaLean® Bar is only good as a meal replacement? Think again.
From kid-friendly snacks to movie theater treats, discover how the nutrition behind these bars was created for your lifestyle.
IsaLean Bar Nutrition Facts
Don't second guess it: IsaLean Bars are complete meal replacements because of their macro-nutrient profile.
"When looking at a meal replacement, it's important to look at the big nutrients such as carbs, protein and fat balance," says Sara Richter, Nutrition Communications Specialist, from the Research and Development department at Isagenix. "You want to have a complete portion of each one to give you sustainable energy throughout the day."
Each portion is proportionally balanced, but IsaLean Bars are packed with protein. With 18 grams of high-quality, undenatured protein from cows that are pasture-fed and not treated with hormones or routine antibiotics, these bars help with muscle building, fat burning and keeping you satiated.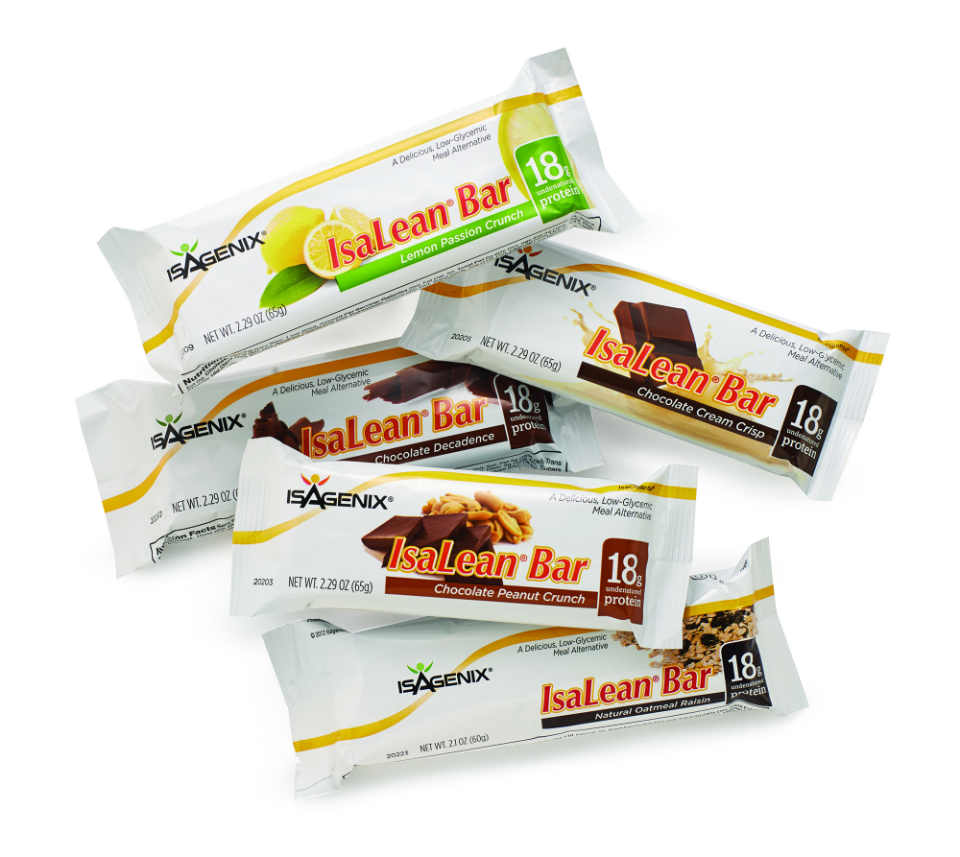 The Kids Say 'Yum'
"Out of all the Isagenix products, I love recommending the IsaLean Bars for kids," says Sara. "IsaLean Bars taste great and they are nutritious."
Perfect as an after-school treat, these bars have been approved for children ages four and up. Finally, the whey protein is low in lactose and high in branch-chained amino acids created for maintaining muscle and promoting growth.
It Works Out
While working out, you also need to consider what type of energy your body needs.
Ranging from 28 to 32 grams of carbs, IsaLean Bars are perfect for strength training or high endurance activities.
"An hour or two before your work out, have a bar," suggests Sara. "The bars will not cause a spike in blood sugar, so you can have sustained energy that you need."
Digestion wise, it takes a higher carb to help with athletic performance. Since protein takes longer to digest, there's a slightly lower protein source in these bars making the carb/protein combination a perfect one to eat before working out.
The Right Snack
Create your own personal program with IsaLean Bars. Even though they are complete meal replacements, cut them in half and use them as snacks throughout the day.
"I personally like to cut the Chocolate Cream Crisp or Chocolate Peanut Crunch bars up into little pieces and use as a movie theater snack," says Sara. "It's that ideal balance of snacking on something sweet with a more satiating nutrient profile."
At the end of the night, instead of turning to ice cream or other empty-calorie sweets, indulge in one of the three chocolate bars.
"The chocolate bars will satisfy your sweet tooth and fill your body with good calories rather than empty ones," says Sara.
It's Your Lifestyle
Whether you're eating gluten-free, kosher or lacto-vegetarian, these bars were created to support the cleanest lifestyles.
"We realize it's important to give people the right options," says Sara. "That's why we've created so many bars for various lifestyles and taste preferences."
Even though some bars do have oats—which raise flags for gluten-free fans—all IsaLean bars are considered gluten free.
"IsaLean bars are absolutely safe for those who have to avoid gluten," says Sara. "Even more, the bars have no artificial sweeteners or flavors."
This nutritional profile of the bars also slows the absorption of sugars into the bloodstream making it a low-glycemic, balanced meal that reduces cravings.
For those looking for a more antioxidant-packed bar, the Chocolate Decadence and Lemon Passion Crunch bars contain added Adaptogens such as goji berry and astragalus root and the superfood fruit acai.
To learn more about the nutrition behind IsaLean Bars, listen to "The Magic of Our IsaLean Bars" on IsagenixPodcast.com.