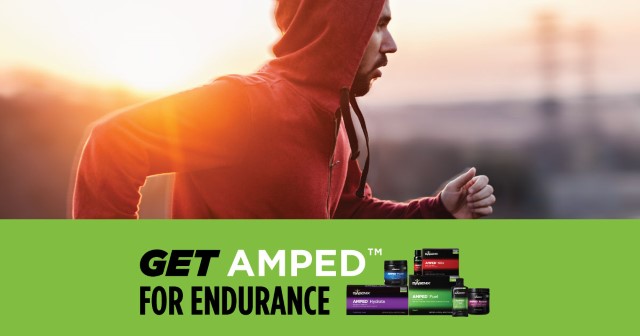 This is the first of a four-part series discussing how AMPED™ can improve your performance. In February, we broke down four common types of people who can benefit from AMPED to fuel their performance—those who are looking to improve endurance, gain muscle, improve strength and power, or heighten everyday activity.
Before you run your next mile, swim your next lap, or hike your next trail, you need to know what AMPED can do to fuel your endurance. The latest performance products from Isagenix are scientifically designed to enhance your fitness, before, during, and after your workout.
What Is an Endurance Athlete?
Some endurance athletes are marathon runners, triathletes, or even Ironman competitors, but that only makes up a small percentage of people who call themselves endurance athletes. If you jog in the morning, run on the treadmill in the afternoon, or get in a short hike before the sunset, you are an endurance athlete. So if you want to get the most out of your workouts, why not use the right tools for the best results?
What Do Endurance Athletes Need?
Carbohydrates play a huge role in endurance activity as the body relies on them for fuel during extended cardiovascular activity. Whether you run a marathon or a few miles around the block, your body uses carbs (among other nutrients) to keep moving and function properly.
Endurance athletes also need optimal blood flow to ensure oxygen reaches the muscles. Simply put, when blood is flowing well, your muscles stay stronger, longer (and that could make all the difference during long exercise).
How Can AMPED Help?
Pre-Workout
AMPED NOx uses vegetable extracts from beets, red spinach, and celery to support the body's nitric oxide production, which in turn supports healthy blood flow.† AMPED Power uses a synergistic blend of creatine, Nitrosigine®, and citrulline to increase strength and power during endurance exercise.†
Mid-Workout
Your body loses a lot of water and nutrients through sweat during endurance activity and AMPED Hydrate* helps replenish those nutrients and keep the body hydrated during exercise. (You can drink AMPED Hydrate before and after workouts, too). AMPED Fuel uses fast-acting carbohydrates from apple puree, agave, and molasses so you can keep moving during a long workout. This is the perfect product to support endurance for anything from a marathon to a long morning run.
Post-Workout
Muscles break down during long exercise, especially endurance activity lasting more than one hour, and AMPED Recover uses branched-chain amino acids to support muscle rebuilding so you can recover quickly and keep training.† While branched-chain amino acids aid in the muscle-rebuilding process, your body also needs high-quality protein to help build stronger, more efficient muscles. IsaLean® PRO Shake is a complete meal replacement containing 36 grams of whey and milk protein.
Additional Options
Ionix® Supreme – Adaptogens and natural botanicals help combat the negative effects of physical stress.†
Joint and Pain Relief System – Helps alleviate sore joints and muscles after long activity.†
Ageless Essentials™ Daily Pack – Contains vitamins, minerals, and other nutrients to help your body function properly.†
e+™ – Natural caffeine and Adaptogens to kick-start your workout. †
Run Your Own Race
Everyone is different, and you may find that certain products work best for you. The above is a suggestion, but feel free to add other products to your routine to see how to improve your endurance and fitness. Visit your Back Office to order one of our Performance Systems and AMPED today.
Nitrosigine is a registered trademark of Nutrition 21, LLC and is patent protected.
†These statements have not been evaluated by the Food and Drug Administration. These products are not intended to diagnose, treat, cure, or prevent any disease
*We are in the process of rebranding Replenish into AMPED Hydrate. Same great formula, now part of the AMPED line. Look out for the new AMPED Hydrate packaging in 2016.