Thank you for your interest, submissions are now closed. Voting will be open soon, so stay tuned to IsaFYI.com/Recognition!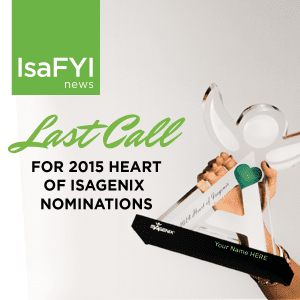 Do you know someone who is always willing to serve and help others? Someone who goes out of their way to honor their team members and their achievements?
The next Heart of Isagenix Award will be presented onstage at our 2015 New Year Kick Off event.
Who do you know that:
goes the extra mile to inspire and help others reach new heights
creates direction and purpose for their team
exudes passion for the Isagenix mission and our core values of integrity, freedom, wellness, family, passion, purpose and personal excellence
supports everyone in their team as they work toward their personal goals
leads by example, from attending events to doing a 90-Day Game Plan or joining the IsaBody Challenge®
http://youtu.be/TFZeuzMQ_Tc
Our 2014 Heart of Isagenix winner, Sarah G., of British Columbia, was described as an Associate who walks, talks and breathes Isagenix in everything that she does. As an inspiring mentor and leader, she joined forces with her community to help raise $60,000 for some much-needed equipment for her local hospital's NICU. Her team said she is forever giving back, and encourages others to do the same. Nominations are easy! Simply fill out the form. Your nomination will be delivered to our Recognition team. Then, after the three finalists are chosen from the pool of nominees, you can vote for your favorite! We are accepting nominations through November 16, 2014.