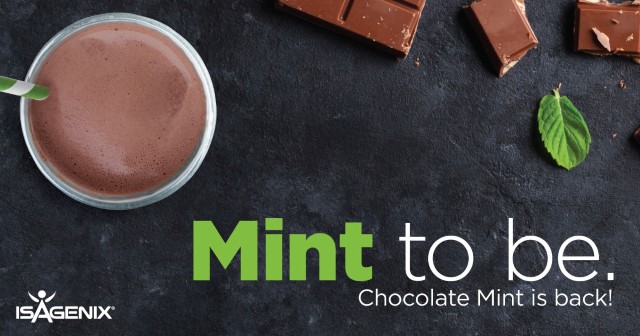 Chocolate Mint IsaLean® Shake is back for a limited time! Last year, this delectable blend sold out in just a few short days, so be sure to place your order before it's gone. Chocolate Mint IsaLean Shake is creamy and sweet with warm hints of mint. This shake will leave you and your taste buds refreshed, with its cool and invigorating flavor. If you've never had the pleasure of indulging in this Customer favorite, here's your chance!
Available in the U.S. and Canada, Chocolate Mint IsaLean Shake canisters cost US$39.95/27 BV and CA$44.95/27 BV.
Since Chocolate Mint is only available for a limited time, it cannot be added to monthly Autoship orders and is not available when building an Isagenix System or Pak. To place an individual wholesale order, log in to your Back Office, and select the green "Place Order" button. Next, select "Continue with Wholesale Order." Chocolate Mint IsaLean Shake is located under the "New Products" tab. Due to high demand, Customers will only be allowed to purchase up to 10 units per order.
Don't miss out on adding Chocolate Mint to your cart before it's gone! Treat yourself, and be sure to visit your Back Office today!