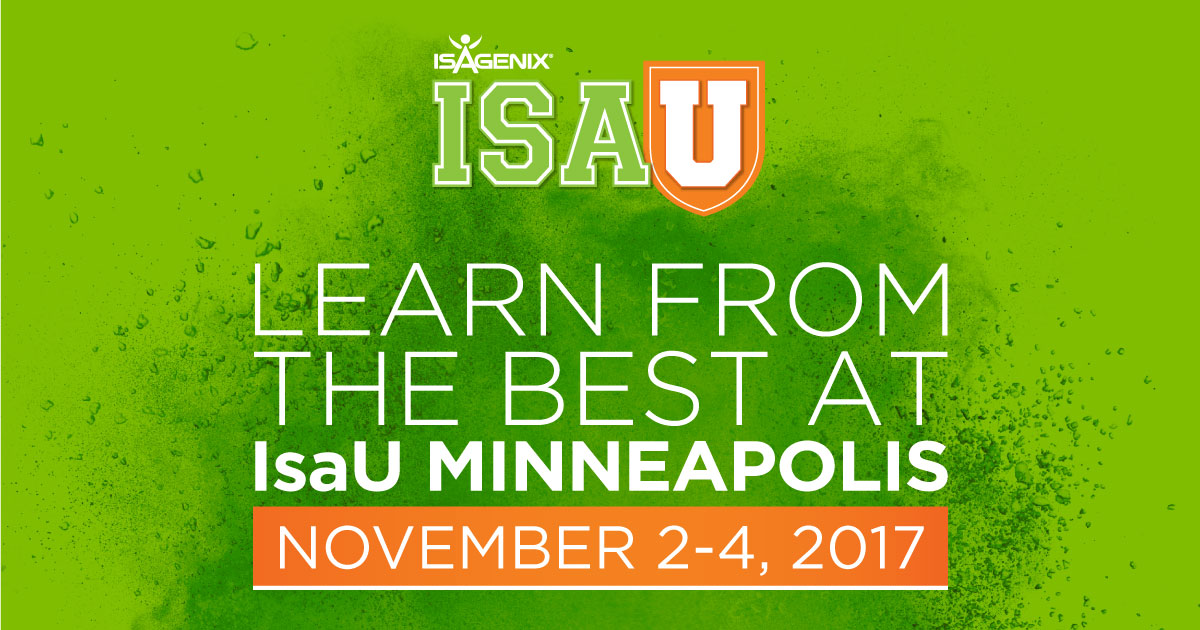 Meet the Trainers
Looking for ways to invigorate your Isagenix business? Isagenix University has you covered. Head to Minneapolis Nov. 2-4 for an unforgettable lineup of trainers to help you improve your business in every aspect, from building a business plan to balancing your work-life schedule.
Reserve your spot at IsaU Minneapolis before tickets sell out!
Want to know who you'll be getting invaluable insider tips from? Here are the incredible trainers attending IsaU Minneapolis and a few things you can expect to learn from them:
Pamela Barnum
Gain actionable insights into how you can work less and accomplish more. Sound too good to be true? Pam will make you a believer with her expertise in network marketing.
Holly DeMott
Holly can teach you how to share the products effectively. She truly is a product of the product and knows from personal experience how to maximize the benefits of each Isagenix product.
Chris Harder
Don't miss this training segment on how to use social media to grow your business, and gain the courage you need to pursue your ambitions. Chris built a hugely successful Isagenix business from the ground up and is ready to share his tips for success with you.
Lindsay Hoffbuhr
Learn how Isagenix products fit into an everyday lifestyle. Lindsay can help you conquer fears about starting a home business.
Matt and Amanda Svendsen
Learn the basics of the Isagenix Team Compensation Plan. Matt and Amanda got started with their successful Isagenix business by attending an Isagenix University. They are living proof of the impact events can have as you create your business.
Hayden and Emily Vavra
Gain insight into the entire Isagenix experience and learn more about the Isagenix Compensation Plan. Hayden and Emily are the youngest couple to become Isagenix Millionaires* and are passionate about helping you create a game plan to achieve your goals.
Kristin Jenkins
Kristin has her own incredible 87-pound weight loss** journey to share with you, and she'll tell you how she leveraged her success with the products to create success with her business. At this event, Kristin is showcasing how to use virtual Facebook events, and she'll give you a detailed breakdown of the benefits of Autoship.
Zach and Jessica Sikich
Zach and Jessica are hosting IsaU Minneapolis. Besides a warm welcome and entertaining trivia about Isagenix, they're a great example of how to focus on health, mindfulness, and leadership.
You'll also hear how to transform your body and life from 2017 IsaBody Challenge® Grand Prize winner Helen Costa-Giles.
You can read more about these trainers at IsagenixEvents.com.
Get your ticket to IsaU Minneapolis today!
Tickets are going fast, so register today for only US$149, and be sure to book your special hotel rates!
Have questions? Email our Events team for more information.
*An Isagenix Millionaire is an Independent Associate to whom Isagenix has paid a gross total of $1 million or more since joining Isagenix. Earnings reflect gross amounts that do not include any business expenses. The ability to earn income under the Isagenix Compensation Plan depends on many factors including an individual Associate's business, social, and sales skills; personal ambition and activity; availability of time and financial resources; and access to a large network of family, friends, and business contacts. Isagenix cannot and does not guarantee any particular level of earnings. Even Associates who dedicate a significant amount of time, effort, and personal funds may not achieve a meaningful level of success. For average earnings, refer to the Isagenix Earnings Disclosure Statement at IsagenixEarnings.com.
**Results not typical. Weight loss, muscle gain, lifestyle, and other results depicted here reflect exceptional individual experiences of Isagenix Customers and should not be construed as typical or average. Results vary with individual effort, body composition, eating patterns, time, exercise, and other factors, such as genetic and physiological makeup. In a two-phase study performed from 2015-2016 by Skidmore College in New York, researchers evaluated use of Isagenix products for weight loss. As part of the weight loss phase, the participants took part in a calorie-controlled regimen of Shake Days and one Cleanse Day per week and lost an average of 24 pounds after 12 weeks. View the study results.