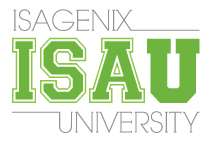 Isagenix® University will be in Kansas City, Missouri November 8-10, 2012. And, if you get your tickets before Sunday, October 21, you'll receive a free gift when you arrive at registration.
Join Isagenix Vice President of Sales Travis Garza and Director of Sales Mac Larsen, lead trainers Isagenix Millionaire, 9-Star Platinum Circle and 5-Star Crystal Executive Hilari C. and 10-Star Platinum Circle and 9-Star Crystal Executive Lynn H., plus network marketing expert and world-renowned speaker Michael C. at this incredible two-day event.
Learn about our no-compromise products, how to achieve maximize results with our generous compensation plan and how to apply our new "You + 2 and Them + 2" system to your business. Plus, reconnect with your team and meet other like-minded Isagenix Associates!
Not to mention:
Gain expert business-building tips
Play the "IsaMillionaire" game for a chance to win cash and prizes
Load up on cutting-edge products purchased at the World of Isagenix Store
To purchase tickets to this limited-seating event, log in to your Back Office "Orders" section and select "View & Manage Events" followed by "Corporate Events" before choosing "University" from the dropdown menu.
For more information on upcoming IsaUs, visit IsaFYI.com's "Events" tab.
More Event Details
Location
Hilton Kansas City Airport
8801 NW 112th Street
Kansas City, MO 64153
Schedule
Thursday, November 8, 2012: Opportunity Meeting 7:30 p.m. – 9 p.m. (Free to everyone)
Friday, November 9, 2012: General Session 9 a.m. – 6 p.m. (Lunch on your own – IsaLean® Bars will be provided)
Saturday, November 10, 2012: General Session 8:30 a.m. – 6 p.m. (Lunch will be provided)
Sunday, November 11, 2012: 2 Star & Above Training 8:30 a.m. – 1:30 p.m.