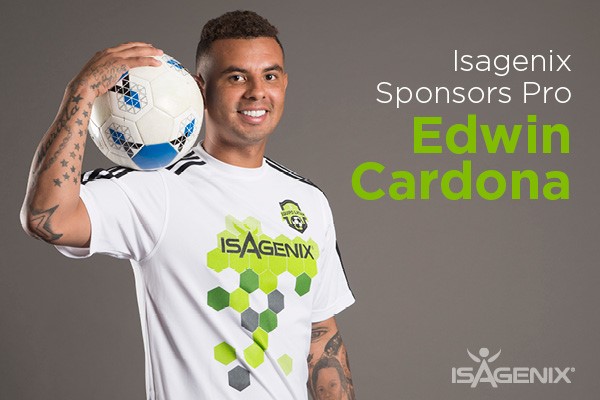 Edwin Cardona is not just a talented professional soccer player – he's a husband, father of three, and one of the newest members of the Isagenix family, joining us as a sponsored athlete through our professional athlete sponsorship pilot program.
Cardona, who is only 24 years old, has made a name for himself in both Colombia and Mexico as an intelligent and dynamic midfielder/forward. Cardona currently plays for one of the top clubs in the Mexican professional league, Club Monterrey, while representing his home country of Colombia on the Colombian National Football (Soccer) Team. Since beginning his professional career in 2009, Cardona has made over 200 appearances for first division clubs in Colombia and Mexico, scoring over 50 goals.
"Having Cardona join the Isagenix team as a product ambassador is an exciting opportunity – Cardona is one of the most exciting, up-and-coming players in Latin America," said Isagenix Senior Vice President of International Sharron Walsh. "We are not only excited about our sponsorship with him but also look forward to contributing to his continued success as we provide him with quality nutrition through our world-class nutritional products."
A Meaningful Sponsorship Between Isagenix and Cardona
As Isagenix continues to grow, we are looking for new ways to increase our brand awareness. As we pursue our vision of impacting world health, we are partnering with individuals, including world-class athletes, who share our values and can provide the level of awareness that will reach more people across the globe.
"Isagenix products have long been popular with top athletes around the world. It has been a source of great pride that so many athletes use and share Isagenix simply because they love the way they feel and perform as a result of our products. As our company grows, we are considering ways to increase our brand awareness, which includes assessing the benefits of sponsoring star athletes who share our values and ethics," said Sharron.
Because of his talent and position as a rising star in the global football community, Cardona will be a valuable partner in spreading awareness of the Isagenix solutions and results.
"I'm really excited about this new opportunity," said Cardona. "Isagenix is a fantastic company, and I look forward to working with them and sharing their incredible products all over the world!"
Stay tuned to IsaFYI.com to see more about this exciting sponsorship.
To follow Cardona's success in the football arena, follow his journey on Facebook or Instagram.