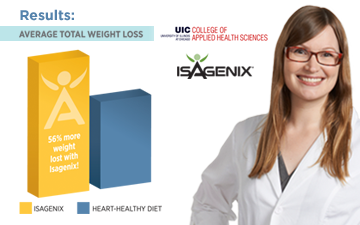 Did you hear? The University of Illinois Chicago just studied our Isagenix® system and measured it against a recognized heart-healthy diet. Not only were researchers astonished at the results, but they were also pleased with the study participants' adherence to the system!
The manuscript has been submitted to two peer-reviewed journals and is still under review; however, you can read more details about the study in our clinical research summary.
Take a look at this IsagenixHealth.net article for a detailed interview with the study's lead researcher, Dr. Krista Varady.
You can also find these sales tools on IsaProduct.com, and in your Back Office "Resources" section. Simply select "Browse Library" and then "Research and Scientific Information."