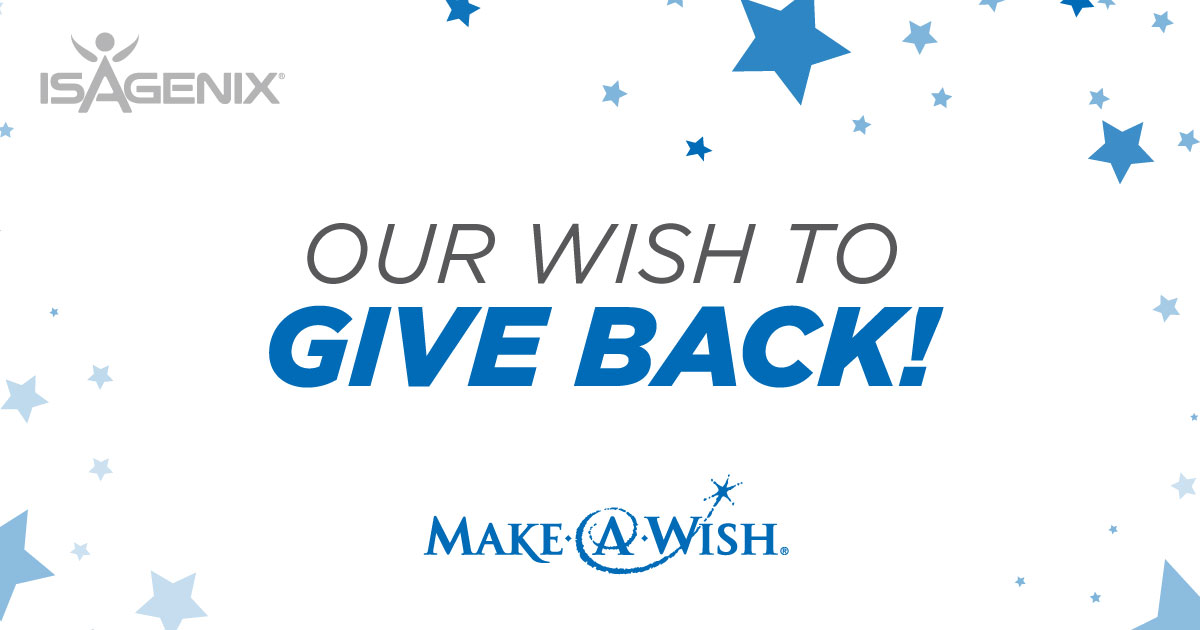 Every day, the Isagenix community strives to impact the lives of others in a positive way and give back. Year after year, Isagenix Customers contribute to different causes by generously giving their time, money, and compassion.
Make-A-Wish® is an organization that has been near and dear to our hearts since the sponsorship began in 2012. That's why every year we dedicate the month of May to this deserving cause. This year, with the help of Customers, we raised almost $300,000 in just one month! This is enough to grant nearly 30 wishes for children who are suffering from critical illnesses.
With the money Customers helped us raise during the month of May, we were able to exceed the goal of a total contribution of $6 million to this life-changing organization by the end of the month. We are so thankful that the Isagenix family is passionate about impacting the lives of these deserving children and bringing joy, hope, and strength to them and their families during such a difficult time.
How Isagenix Gave Back in May
Thousands of Isagenix Members contributed to Make-A-Wish last month in a variety of ways. Here's how they gave back:
Upgraded their Celebration 2017 seats. Celebration 2017 ticket holders were offered the chance to purchase upgraded reserved seating for only $200, and 100 percent of the cost was donated to Make-A-Wish. This special seating sold out in just 72 hours, raising $89,200 for Make-A-Wish!
Purchased product. For the month of May, Isagenix selected several products to benefit Make-A-Wish. When a Customer purchased a 6- or 12-count box of e+™, 32-ounce bottle of liquid Cleanse for Life®, or Milk Chocolate With Sea Salt and Caramel Flavor IsaDelight®, Isagenix donated 50 cents to Make-A-Wish. Through your product purchases, we contributed $91,470.50!
Donated through Autoship or commissions. By visiting their Back Office or emailing IsaWish@IsagenixCorp.com, many Members selected to make a recurring charitable donation on every order or through their weekly commissions. By doing this, we raised $79,000 for Make-A-Wish!
Made a one-time donation. Several Customers made generous, one-time donations to Make-A-Wish, pushing us past the goal for the month.
It's not too late to donate to Make-A-Wish! Customers are able to donate year-round through Autoship, at Isagenix Core 4 Events™, and through one-time donations. Associates can donate through any of the above methods and through commissions as well. For more information about the Isagenix sponsorship of Make-A-Wish and how you can help, visit Isagenix.com.