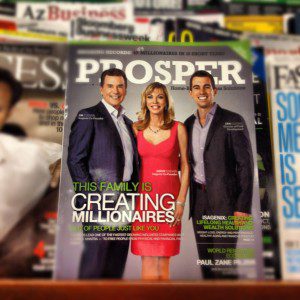 Isagenix® has the distinct privilege of being featured in Prosper magazine for a third consecutive year and having the entire August edition devoted exclusively to the company.
On newsstands now at Barnes and Noble, select Target and Walmart stores and at IsaSalesTools.com, this highly respected and highly sought after prospecting tool provides an in-depth look into Isagenix, its Co-Founders Jim and Kathy Coover, and their vision to create the No. 1 health-and-wellness company in the world.
Within this glossy publication's 66 colorful pages are feature articles on how Isagenix can help create a millionaire out of you, its Top 10 milestones and its solutions for lifelong health. Plus, read about some of our top-income earners' journey to success; get a brief introduction to our 69 Millionaires, catch up on the next generation of up-and-coming entrepreneurs and find out the future direction of Isagenix. But, what ever you do, don't forget to share Prosper magazine with your friends and family.
This tool will help elevate your business (and your team's) to the next level! What's more, Isagenix has included two exciting new tools within Prosper magazine that you can add to your business-building arsenal and use when you introduce prospective new Associates to Isagenix.
IsaSalesTools.com is so confident in this tool's ability to help build your business that they're offering a money back guarantee. Here's more on Proper magazine's guarantee:
To order your copies of Prosper magazine today, visit IsaSalesTools.com.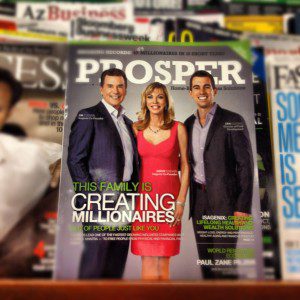 Isagenix® tiene el gran privilegio de aparecer en la revista Prosper por el tercer año consecutivo y tras la completa edición de agosto dedicada exclusivamente a la empresa.
Disponible en Barnes and Noble, seleccionadas locaciones de Target y Walmart y en IsaSalesTools.com, esta muy respetada y buscado herramienta de prospección ofrece una perspectiva profundidad sobre Isagenix, sus Co-fundadores Jim y Kathy Coover, y su visión de crear la compañía Nº1 de salud y bienestar en el mundo.
Dentro de las 66 páginas de esta publicación hay artículos a fondo sobre cómo Isagenix le puede ayudarle a convenirse en unmillonario, los 10 mejores hitos y las soluciones para la salud duradera. Además, lea las historias de éxito de nuestros Asociados con mayores ingresos, obtenga una breve introducción a los 69 millonarios, póngase al día con la próxima generación de empresarios y averigüe la dirección futura de Isagenix. Pero que no se le olvide compartir la revista Prosper con sus amigos y familiares.
¡Esta herramienta le ayudará a llevar a su negocio (y su equipo) al siguiente nivel! Isagenix ha incluido dos nuevas y emocionantes herramientas dentro de la revista Prosper que usted puede usar cuando  introduzca a nuevos Asociados a Isagenix.
IsaSalesTools.com tiene tanta confianza en la capacidad de esta herramienta para ayudar a construir su negocio que le ofrecemos una garantía de devolución de dinero. Aquí hay más información sobre la garantía de la revista:
Para ordenar ediciones de la revista Prosper visite IsaSalesTools.com