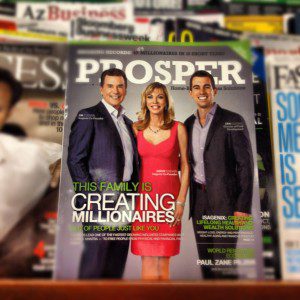 Isagenix® has the distinct privilege of being featured in Prosper magazine for a third consecutive year and having the entire August edition devoted exclusively to the company.
On newsstands now at Barnes and Noble, select Target and Walmart stores and at IsaSalesTools.com, this highly respected and highly sought after prospecting tool provides an in-depth look into Isagenix, its Co-Founders Jim and Kathy Coover, and their vision to create the No. 1 health-and-wellness company in the world.
Within this glossy publication's 66 colorful pages are feature articles on how Isagenix can help create a millionaire out of you, its Top 10 milestones and its solutions for lifelong health. Plus, read about some of our top-income earners' journey to success; get a brief introduction to our 69 Millionaires, catch up on the next generation of up-and-coming entrepreneurs and find out the future direction of Isagenix. But, what ever you do, don't forget to share Prosper magazine with your friends and family.
This tool will help elevate your business (and your team's) to the next level! What's more, Isagenix has included two exciting new tools within Prosper magazine that you can add to your business-building arsenal and use when you introduce prospective new Associates to Isagenix.
IsaSalesTools.com is so confident in this tool's ability to help build your business that they're offering a money back guarantee. Here's more on Proper magazine's guarantee:
To order your copies of Prosper magazine today, visit IsaSalesTools.com.
This post is also available in: Spanish