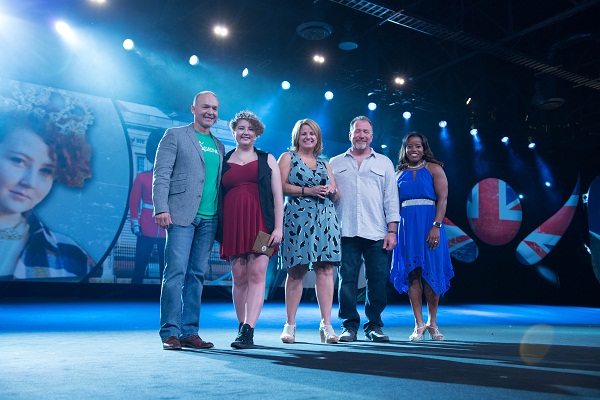 As parents, Jim and Kathy Coover want nothing more than to see every child live a happy, healthy life. As Co-Founders of Isagenix, they are working to make that vision a reality by partnering with Make-A-Wish®, the world's largest wish-granting organization, to help children with life-threatening medical conditions see their biggest wish come true.
On August 10, in front of more than 14,000 Isagenix Associates, employees, and members of the media, Isagenix and Make-A-Wish came together at the Isagenix annual flagship Celebration event in Las Vegas to reveal the wish of a 16-year-old girl named Jordyn. In addition, Isagenix Associates raised more than $100,000 on-site at Celebration and more than $2 million this year.
Jordyn, who suffers from hepatocellular carcinoma (liver cancer), wishes to visit London, and with the help of Isagenix and Make-a-Wish, her wish is about to come true, marking a huge milestone in her treatment and journey.
The onstage wish reveal filled the audience with joy, tears, and most of all, gratitude.
While she has never been to London, Jordyn has always had an interest in the culture and literature. She already has a list of must-sees that include watching the changing of the guards at Buckingham Palace, visiting the Tower of London and St. Paul's Cathedral, catching a show at Shakespeare's Globe Theatre, and of course, taking a ride on a double-decker bus. There is no doubt that Jordyn is ready for her first adventure to London!
A Special Thank-You
Since 2012, with the support of our generous Members, Isagenix has raised over $5 million for Make-A-Wish and has helped grant more than 580 wishes!
"These donations, along with all of you who donate on Autoship or through commissions, are not only helping the wishes of children in your community but are also helping many within our Isagenix Family," says Travis Garza, Isagenix Chief Sales and Marketing Officer.
"We are so grateful to all of our Members who generously support this foundation," adds Kathy. "We could not have done this without you."
2 Ways You Can Donate
Autoship:
Step 1: Log in to your Back Office.
Step 2: Click "Manage Autoship."
Step 3: Scroll down to "Charitable Donations: Make-A-Wish."
Step 4: Choose your monthly donation of $1, $5, or $10.
Commission:
Send an email including your name, member ID, and the amount you want to donate on each commission check to IsaWish@IsagenixCorp.com.
For more on the Isagenix partnership with Make-A-Wish, visit Isagenix.com.