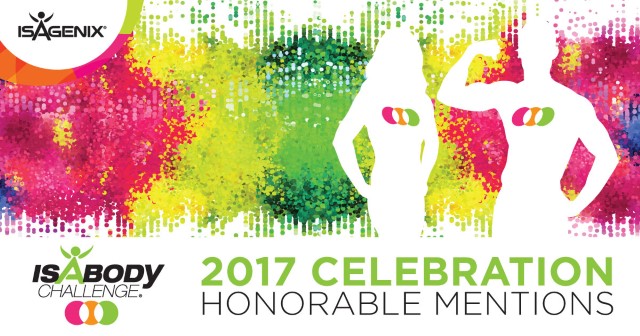 Every 16 weeks an IsaBody Challenge® ends, and every 16 weeks we learn about five new IsaBody™ Finalists and 10 new IsaBody Honorable Mentions! This year's Celebration judging period blew us away with amazing transformations and stories – some even made it to Honorable Mention status after participating in their first Challenge ever!
These 10 participants will receive US/CA$1,000, two (2) tickets to Isagenix events (Celebration, New Year Kick Off, and one Isagenix University), and IsaBody gear.
Let's meet your Celebration 2017 IsaBody Honorable Mentions!
Amber McKenzie
Age: 31
Height: 5'5"
Total weight loss: 23 pounds*
Number of Challenges: 1
Location: Toronto, Ontario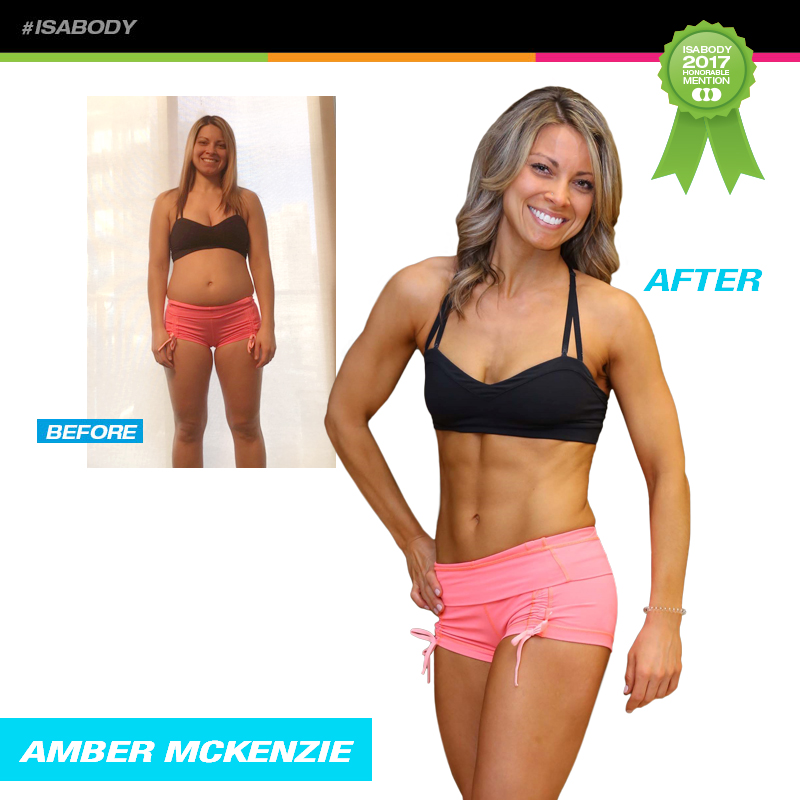 An athlete her entire life, Amber lost her way when her Team Canada taekwondo coach withdrew the team from competition due to politics. Amber had been looking forward to competing for months and began a downward spiral into self-esteem issues and an eating disorder. Her friend Vanessa Asmus, wife of 2016 IsaBody Finalist Mike Asmus, invited her to Red and White Kick Off in Canada, where Amber met other past finalists. Inspired by their stories, Amber decided she would participate in the IsaBody Challenge. With the help of a healthy diet, Isagenix products, and complete support from her loving husband, Max, Amber was able to release 23 pounds* during her Challenge!
Andrew Hooi
Age: 55
Height: 5'6"
Total weight loss: 23 pounds*
Number of Challenges: 1
Location: John's Island, South Carolina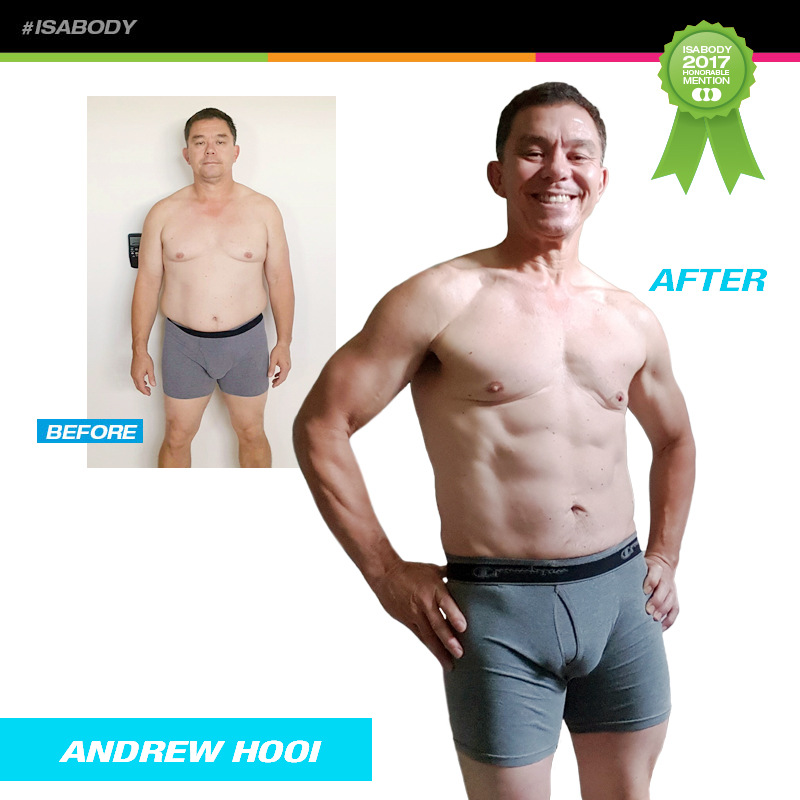 Originally from Australia, Andrew grew up as an avid surfer, but a divorce and shoulder surgery caused him to let himself go physically as he got older. His weight went up and down, and he developed what he called the "American Dad" body. A co-worker's wife introduced Andrew to Isagenix, who referred to it as a "lifestyle change," not a diet. That terminology appealed to Andrew, and he began to take the products. He began to lose weight, his overall demeanor improved, and he felt happier.
"I have become an Isagenix lifer," he said.
Brad Muir
Age: 59
Height: 5'9"
Total weight loss: 8 pounds*
Number of Challenges: 1
Location: Calgary, Alberta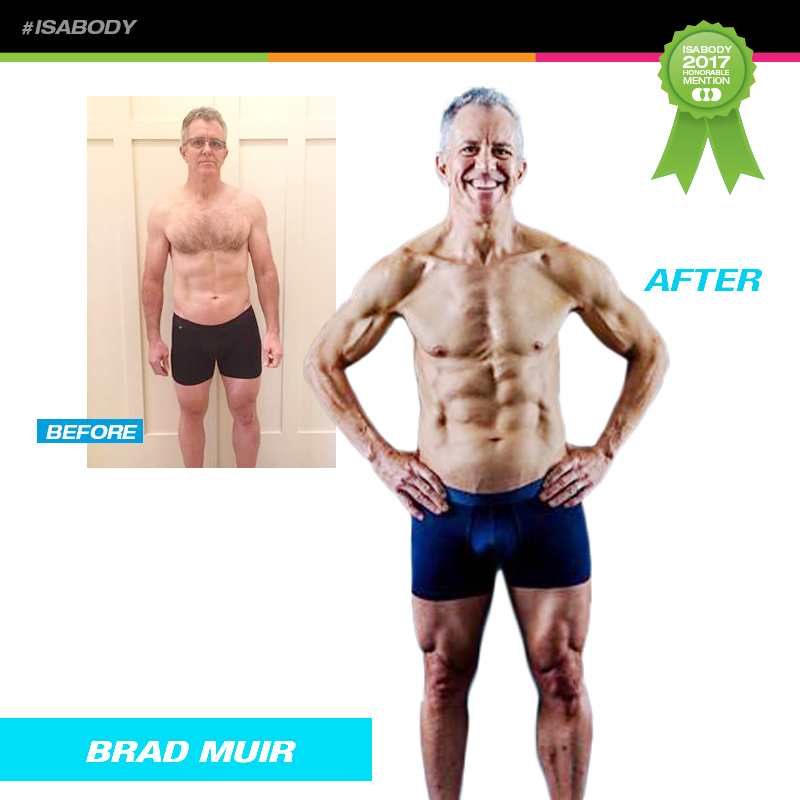 An athlete since he was 17 years old, Brad was an avid cyclist with dreams of competing in the 1980 Olympics in Moscow. However, due to political unrest, many countries pulled out of the Olympics that year, including Brad's home country of Canada. Losing his chance to compete on a world stage crushed Brad, and he fell off the training wagon. For the next 35 years, Brad did not cycle and worked a corporate job but still had that competitive fire inside of him. Recently, Brad got back on his bike, and through the encouragement of his wife, began to take the AMPED™ line and use IsaPro® in his shakes. He noticed an improvement in his training and in his physique and joined his first IsaBody Challenge. Through his Challenge, Brad lost 13 pounds, gained 4 pounds of lean muscle, and reduced his body fat from 16.9 percent to 9.4 percent.*
Eric Tilley
Age: 45
Height: 5'10"
Total weight loss: Gained 15 pounds of lean muscle*
Number of Challenges: 2
Location: Canton, Georgia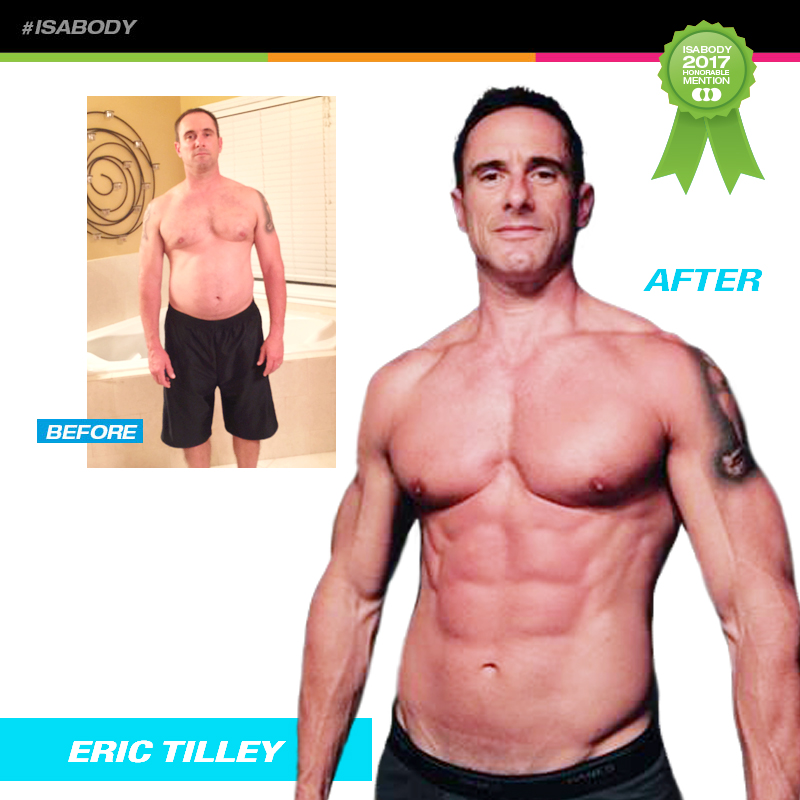 For the first 35 years of his life, Eric's lifestyle consisted of excessive alcohol and drug use and poor nutritional choices. He got his life on track but still fluctuated with his body weight. Once he reached his 40s, Eric realized that staying healthy was harder than he thought. He would eat healthy foods and meal prep, then fall off the wagon, only to jump back on a few months later. IsaBody, combined with healthy eating habits and Isagenix products, helped Eric lose excess weight, gain 15 pounds of lean muscle,* and stay consistent. Today, he is excited to share Isagenix and hopes to grow his business while helping others transform their lives.
Kary Odiatu
Age: 47
Height: 5'6"
Total weight loss: 35 pounds*
Number of Challenges: 5
Location: Unionville, Ontario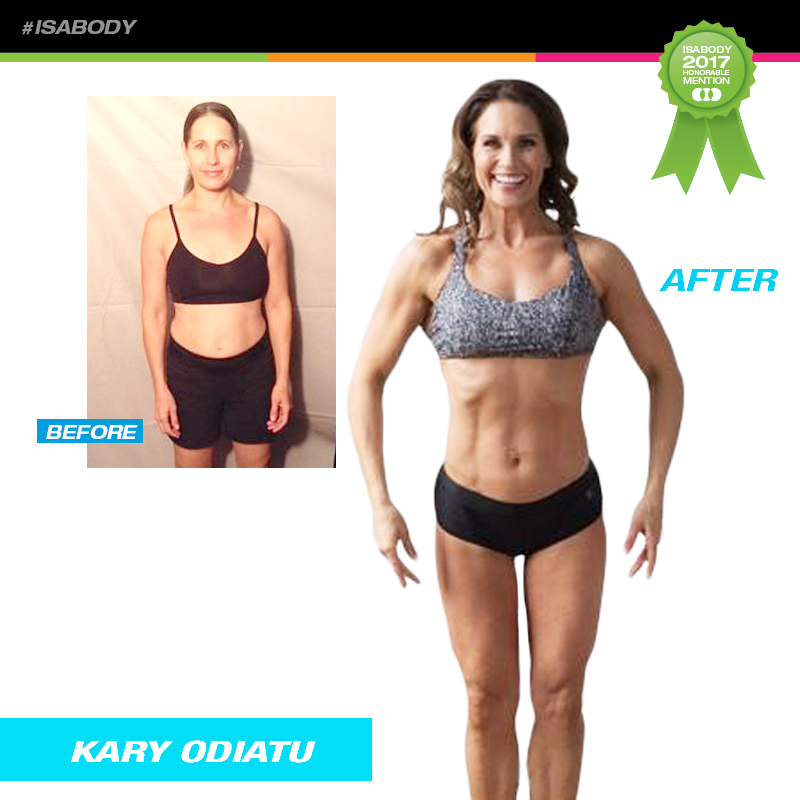 After the heartbreaking loss of her young son, Kary was not ready to return to her full-time job as a public speaker – a profession that required a lot of time away from her husband and children. Looking for ways to earn income while staying close to home, Kary began sharing Isagenix. A former figure competitor, she used the IsaBody Challenge to help her get back into shape and even competed again! Kary's biggest blessing is that at the age of 45, she gave birth to a baby boy, giving her another opportunity to be a mom to a son.
Jennifer Ostrowski
Age: 51
Height: 5'7"
Total weight loss: 32 pounds*
Number of Challenges: 5
Location: La Grange, Illinois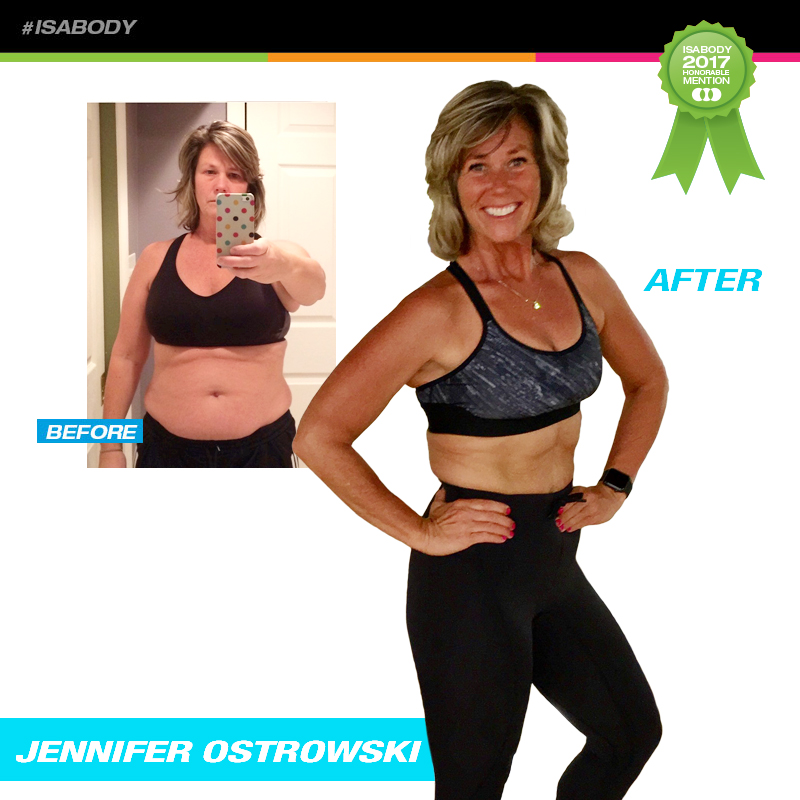 It was Jennifer's children who inadvertently introduced her and her husband, Mark, to Isagenix. Their son's baseball coach was 2016 IsaBody Grand Prize Winner Alvie Shepherd, and when he saw Alvie's transformation, he asked Alvie if he could help his parents. Fast forward a few years and multiple IsaBody Challenges, Jennifer has released 32 pounds* and made a complete lifestyle change. No longer is there junk food in her cabinets at home. Instead, everything has been replaced with healthy snacks and Isagenix nutrition. Jennifer no longer sits on the sidelines watching her children play sports; she now participates in fitness classes with her daughter.
"I am forever grateful at this second chance to be healthy and free," she said.
Lori Gillis
Age: 47
Height: 5'4"
Total weight loss: 57 pounds*
Number of Challenges: 3
Location: Panama City, Florida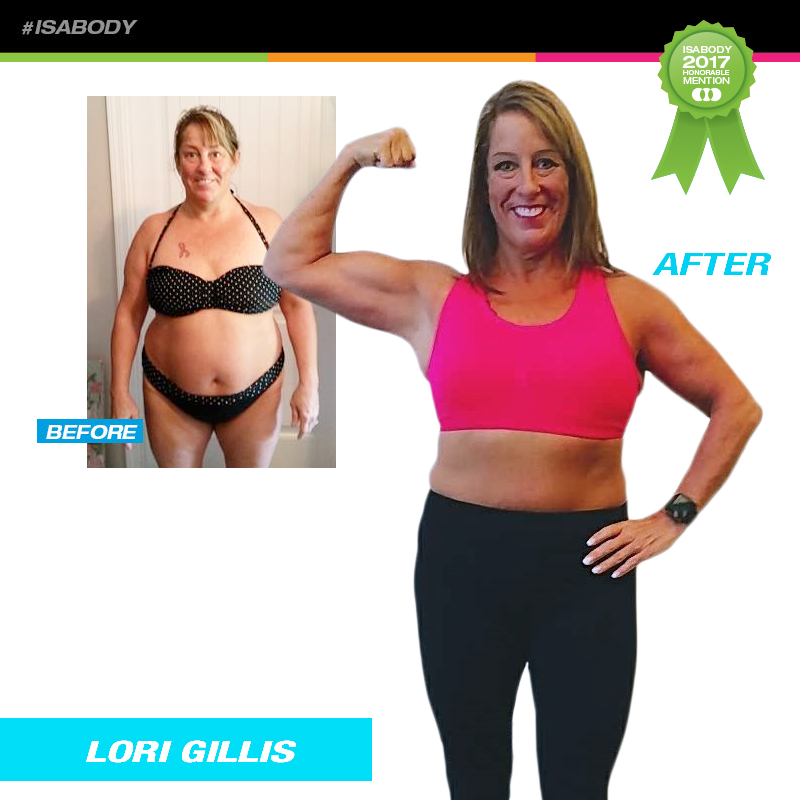 While mourning the unexpected loss of her son, Lori became dependent on alcohol and quickly spiraled out of control. She knew that in order to live, she needed to make a change. That change came in the form of brown box of Isagenix products. Lori began to feel better both mentally and physically and started getting more exercise. Today, she is married to her best friend, who also shares the experience of losing a child, and she participates in Isagenix events, volunteers, and focuses on building her Isagenix business.
Lowden Ashley
Age: 80
Height: 6'0"
Total weight loss: 22 pounds*
Number of Challenges: 1
Location: Truro, Nova Scotia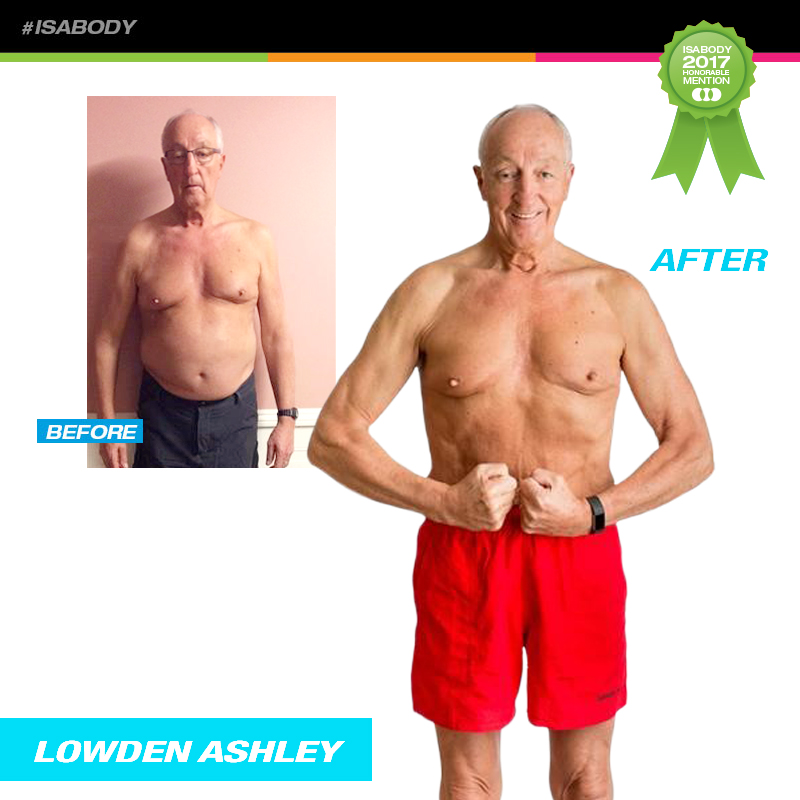 At 80 years young, Lowden decided it was time for a change. Inspired by past healthy aging IsaBody finalists, Lowden said to himself, "If they can do this, so can I!" He began his transformation by adding AMPED products to his Autoship order and breaking out some rarely used exercise equipment. In the past, Lowden's workouts were about 15 minutes long. Now, with the help of Isagenix and the Challenge, he can exercise for up to 90 minutes, go ice skating like he used to, ride his bike, and build his Isagenix business while helping others live more active, productive lives.
Mark Snyder
Age: 51
Height: 5'5"
Total weight loss: Gained 9 pounds of lean muscle*
Number of Challenges: 1
Location: Hershey, Pennsylvania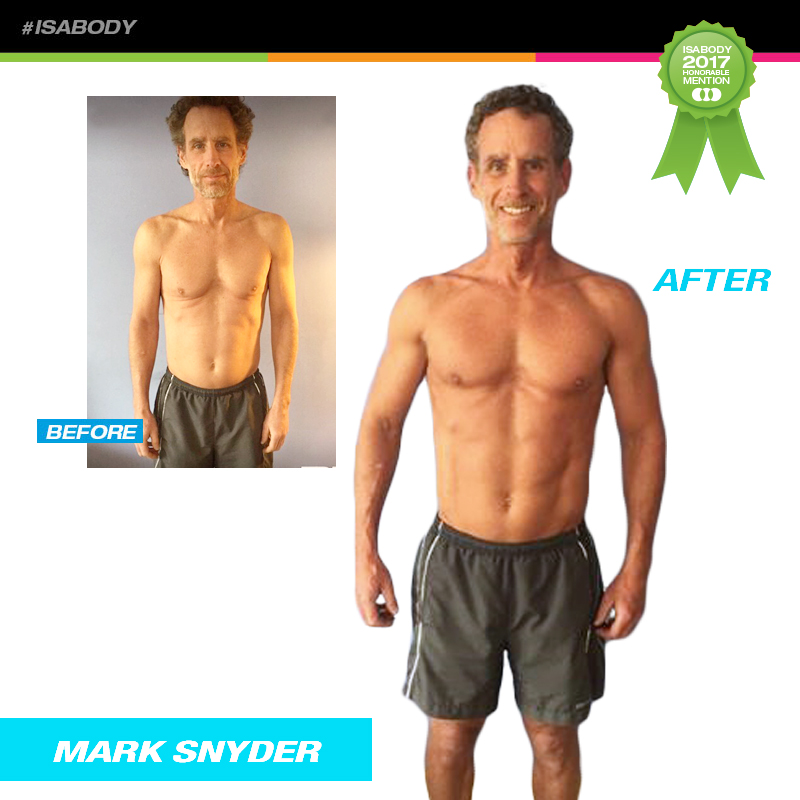 Extremely skinny his entire life, Mark was constantly struggling with trying to gain weight, overcoming addiction, and remaining sober. He grew frustrated when he found sobriety but still couldn't gain healthy weight and never had an appetite. Mark's job required him to travel, making it even harder for him to get proper nutrition. IsaLean® PRO Shake helped, and he slowly noticed the pounds increasing. Mark's wife, Wendy, gave him a gym membership, and while at first he was skeptical to go to the gym, he saw it as a challenge and now loves working out. Wendy encouraged Mark to participate in the IsaBody Challenge, and at 51, he says he is the strongest he has ever been.
Matthew Nixon
Age: 40
Height: 6'2"
Total weight loss: 40 pounds*
Number of Challenges: 1
Location: Milton, Florida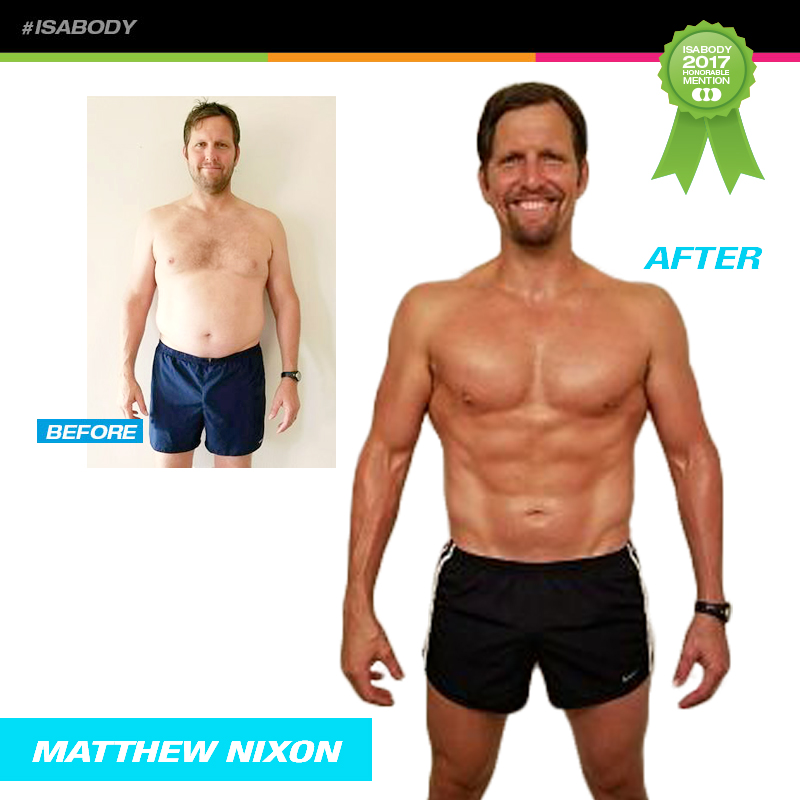 Matthew's life has been full of challenges, but he never let that take him down. Before he was 40 years old, he suffered the loss of both of his brothers, became a single dad, remarried, had three more children, and helped his wife through her own personal health struggles. Needless to say, Matthew spent years putting others first and didn't take time to focus on his own health. By 2016, Matthew and his wife started taking Isagenix products, and Matthew entered his first IsaBody Challenge. Not only did he lose 40 pounds,* but his relationship with his family and his performance at work improved.
"Isagenix has helped me create the best version of myself," he said.
*Results not typical. Weight loss, muscle gain, lifestyle, and other results depicted here reflect exceptional individual experiences of Isagenix Customers and should not be construed as typical or average. Results vary with individual effort, body composition, eating patterns, time, exercise, and other factors, such as genetic and physiological makeup. In a two-phase study performed from 2015-2016 by Skidmore College in New York, researchers evaluated use of Isagenix products for weight loss. As part of the weight-loss phase, the participants took part in a calorie-controlled regimen of Shake Days and one Cleanse Day per week and lost an average of 24 pounds after 12 weeks. View the study results.