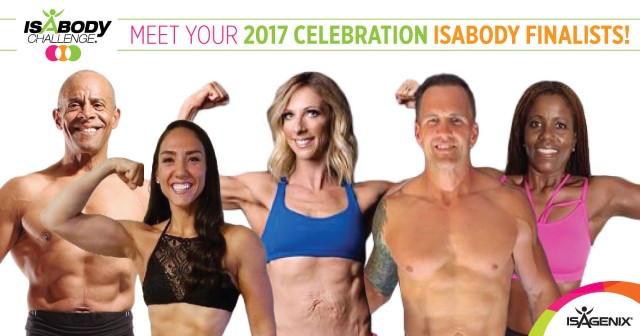 Another IsaBody Challenge® is in the books, and the Celebration 2017 judging period uncovered some amazing finalists! These five hardworking individuals dedicated 16 weeks to fitness, weight loss, and a total mind and body transformation, and their dedication and determination has paid off!
Each IsaBody™ Finalist will receive US/CA$3,000, free registration, and paid expenses for them and a guest to Celebration 2017, a paid trip for them and a guest to the 2017 IsaBody Escape in Costa Rica, and free event tickets for life.
Meet your Celebration 2017 IsaBody Challenge Finalists! 
Rachel Krebs
Age: 30
Height: 5'6"
Total weight loss: 90 pounds*
Number of Challenges: 4
Location: Bellingham, Washington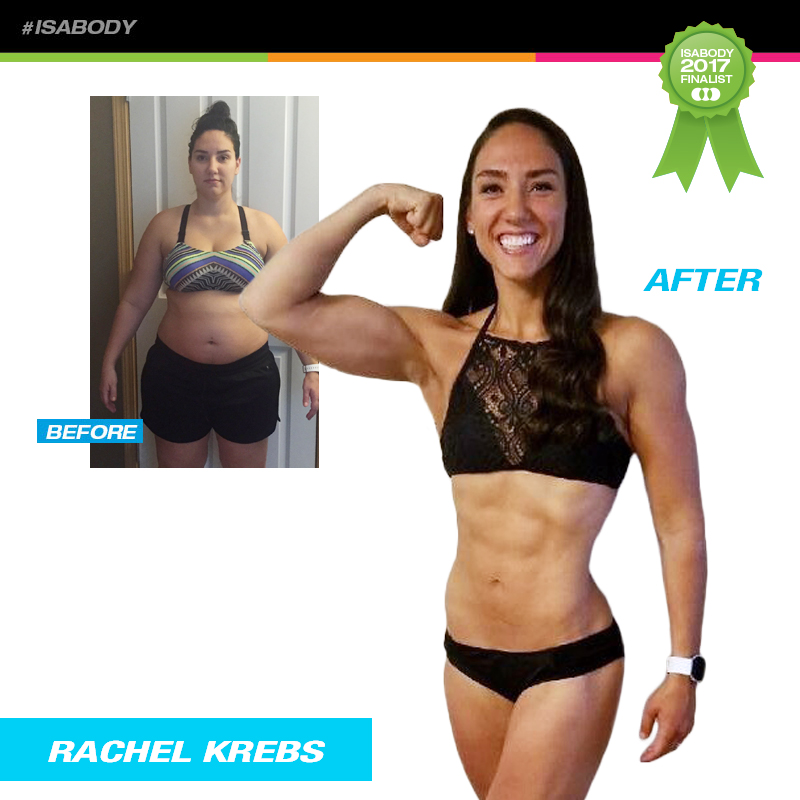 Before she started Isagenix and the IsaBody Challenge, Rachel was worn-out and at a low point in life, with little energy to give to her husband and two children. After two pregnancies, the extra weight gain had taken its toll on her body. One day, she got a call from a friend who told her about Isagenix. Rachel ordered her first 30-Day System and was hooked almost immediately. The nutrition in the products fueled Rachel's body, and witnessing the transformations from IsaBody participants inspired her to start her own journey. After releasing 90 pounds* with the help of multiple Challenges and good nutrition, Rachel now has the energy to be there for her family. She even embarked on a new career as a fitness coach while building her Isagenix business!
"It is now my life's mission to pay it forward and help as many people as I can to realize their own potential and transform their lives!" Rachel said. "Every day, I strive to be the best version of myself, and I pray that I can be a beacon of hope for those around me."
Josh Boettner
Age: 41
Height: 5'11"
Total weight loss: 49 pounds*
Number of Challenges: 6
Location: Reading, Pennsylvania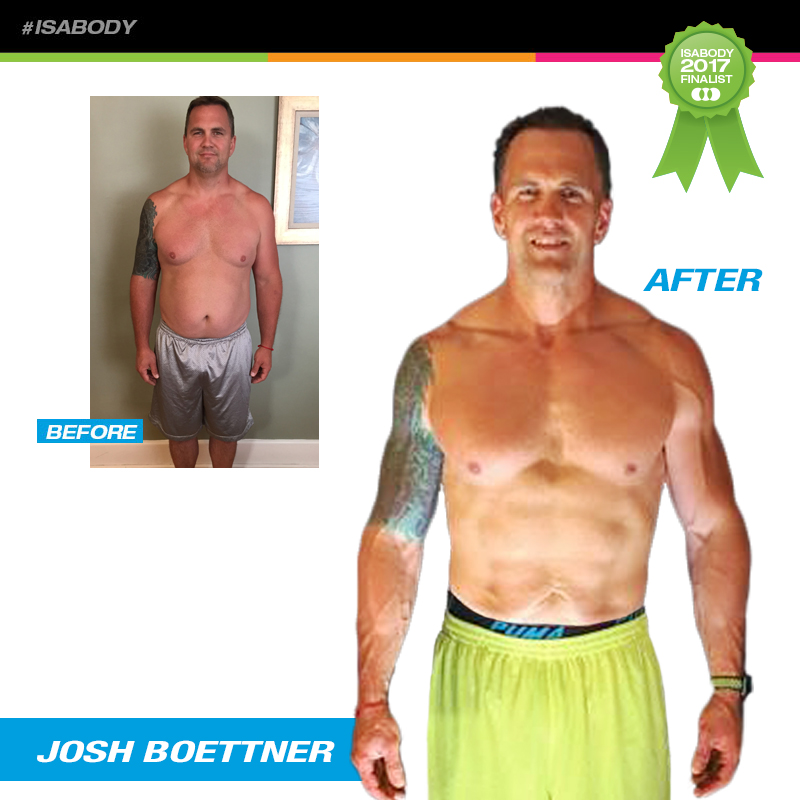 For Josh, his most recent IsaBody Challenge was largely focused on accountability. Ever since he was a child, Josh was overweight and never felt good enough. Being abandoned by his father made self-esteem issues and low self-confidence part of his daily life, and he filled the void of loneliness with food. Using Isagenix support systems and committing himself to his fitness and nutrition, Josh learned about accountability, which helped him address his past trauma and move forward. Josh's wife introduced him to Isagenix, and through six IsaBody Challenges, he has lost almost 50 pounds.* He says the greatest gift he's received through the Challenge is he can now be a role model to his children and play with them without losing his breath.
"This gift is beyond measure," Josh said. "I have come full circle and am no longer fighting the old me."
Lauren Crider
Age: 33
Height: 5'3"
Total weight loss: 24 pounds*
Number of Challenges: 6
Location: Phoenix, Arizona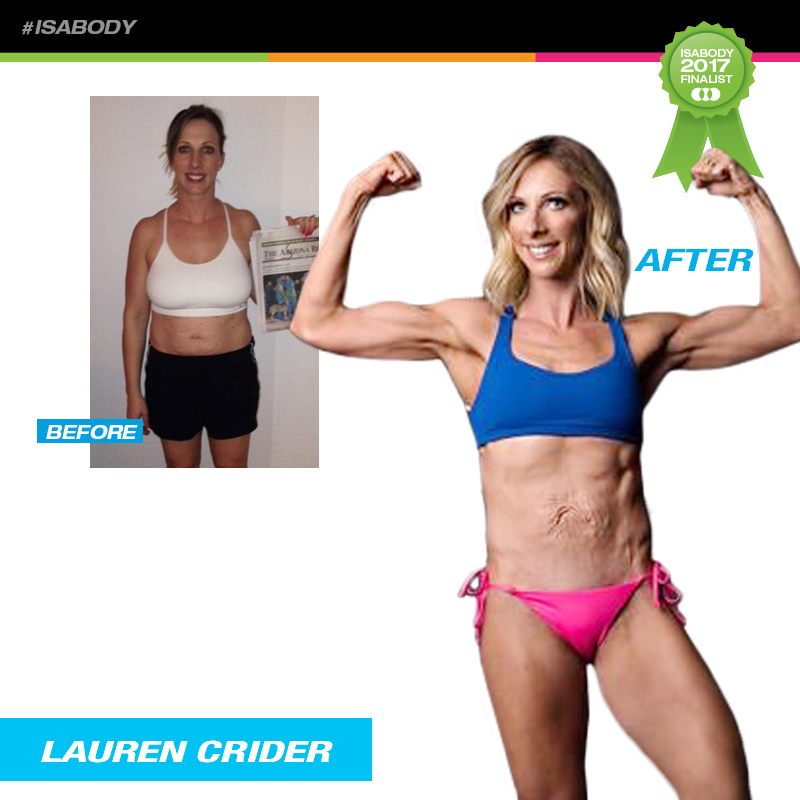 As a corporate recruiter, Lauren helps others find their passions, but she always felt that she was lacking her own. Lauren's physical identity was turned upside down after the birth of her two children; she felt pudgy and had scars on her stomach as a result of pregnancy and childbirth. Lauren found IsaBody, and through multiple Challenges, she reclaimed her body and her identity. Each Challenge helped Lauren reach a new milestone, including completing a half marathon and improving her Isagenix business. Her biggest takeaway after half a dozen Challenges?
"Not the biceps or the obliques," she said. "It's that there is always more to learn. With every Challenge, I've grown in some way and reached a new level of self-awareness."
Jim King
Age: 65
Height: 5'8"
Total weight loss: 40 pounds*
Number of Challenges: 8
Location: Kingston, New York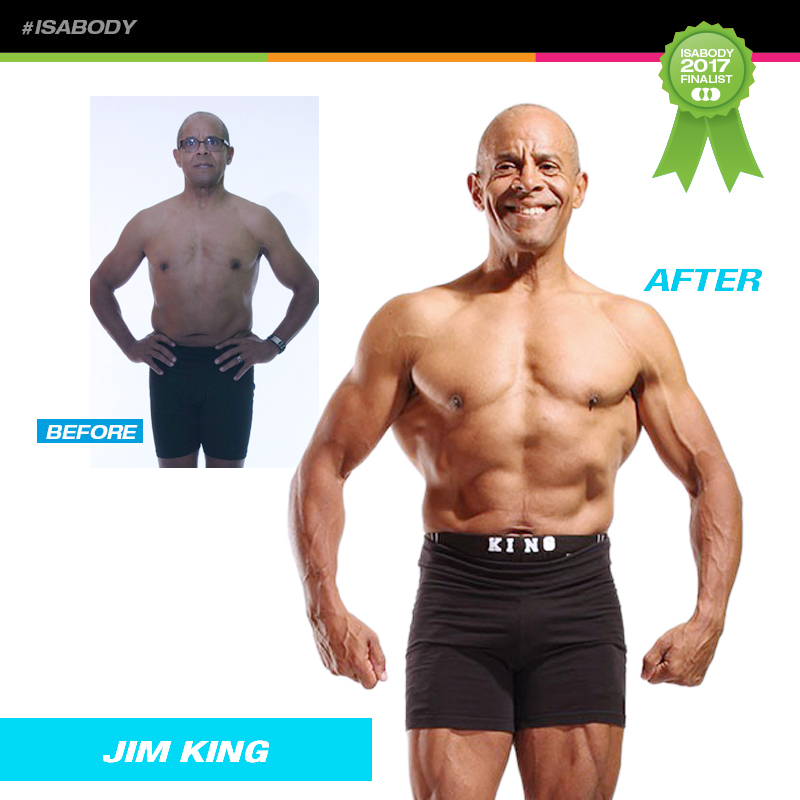 A former powerlifting champion, Jim gained 40 pounds while in his 40s. By 50, he felt old and overweight, and medical professionals warned him that his health was declining. After being introduced to Isagenix, Jim's mindset shifted. His efforts to change his health led to his energy level increasing and his weight decreasing, and most importantly, his hope returning. Today, he doesn't let age define him. He is a competitive biker, runs a training business with his wife, and is grateful for Isagenix and the choice he made to transform his life.
Annette Brooks
Age: 54
Height: 5'8"
Total weight loss: 25 pounds*
Number of Challenges: 1
Location: Douglasville, Georgia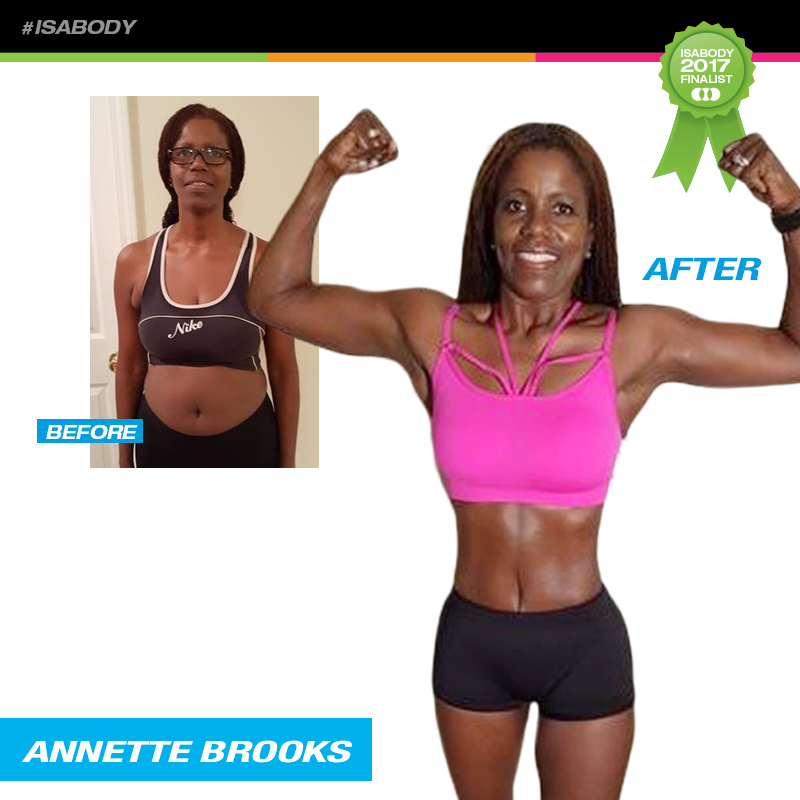 When Annette was 21 years old, she moved from Guyana, South America, to the United States to pursue her American dream. Due to political unrest in Guyana, her father was killed one month after she arrived in the U.S. Determined to achieve her dream, Annette became a successful realtor and investor, had children, and got married. Seven years after getting married, she divorced and spiraled into a cycle of multiple respiratory illnesses, weight gain, and exhaustion. She felt depleted and imprisoned in her body.
Annette learned about Isagenix through a friend, and a year later, she started and completed her first IsaBody Challenge. Through IsaBody, she found a passion for running and began to run marathons. Today, she is full of energy and feels so confident in her body that she entered her first bikini competition. At 54, she says she looks and feels twenty years younger.
Don't miss your chance to watch these five amazing IsaBody Finalists walk the stage at Celebration 2017 in Las Vegas! Get your tickets now before it's too late! Check out IsagenixCelebration.com to purchase tickets.
*Results not typical. Weight loss, muscle gain, lifestyle, and other results depicted here reflect exceptional individual experiences of Isagenix Customers and should not be construed as typical or average. Results vary with individual effort, body composition, eating patterns, time, exercise, and other factors, such as genetic and physiological makeup. In a two-phase study performed from 2015-2016 by Skidmore College in New York, researchers evaluated use of Isagenix products for weight loss. As part of the weight-loss phase, the participants took part in a calorie-controlled regimen of Shake Days and one Cleanse Day per week and lost an average of 24 pounds after 12 weeks. View the study results.