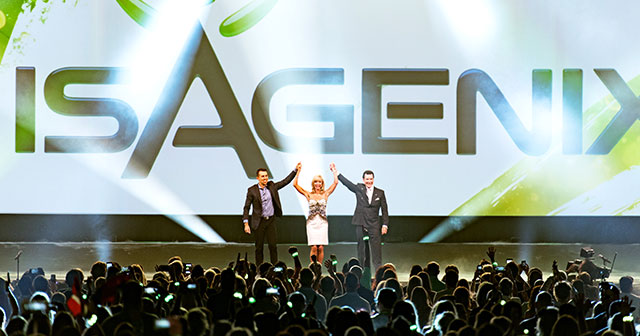 Nothing builds belief in what Isagenix can offer like our extraordinary culture, and there is nowhere better to experience that culture than at an Isagenix event.
Helping you to gain the education, experience and belief that you need to become a powerful and professional network marketer, Isagenix events are key to continuing your leadership development. They provide a great opportunity to receive product and business training, hear about new tools and resources and connect with like-minded people.
Look out for these events in 2017:
Pre-Launch Roadshows
The UK corporate team are coming to a city near you! The Roadshows are your first opportunity to experience Isagenix, find out more about the UK launch and meet the UK team. Over the next few months, there will be 3 sets of Roadshows – one in March, one in April and one in May. Each set of Roadshows will feature different speakers and provide further information on the company, UK opening, product solutions and more. To maximise your knowledge ahead of the UK soft launch, we recommend attending one Roadshow from all three sets if you can. Tickets for the March Roadshow are on sale now – click here
UK Grand Opening
Isagenix UK has arrived and we can't wait to celebrate with you! This is the biggest event on the UK 2017 calendar. Held in London across 2 days, the Grand Opening event is your opportunity to learn all about the products, programmes and promotions that we'll be launching in the UK. Hear from top international leaders as they share their advice and top tips, network with like-minded people and have fun!
Isagenix University (IsaU)
Experience the culture of Isagenix at our very first Isagenix University (IsaU) event in the UK. Gain knowledge about our no-compromise products, develop skills as a professional network marketer and acquire industry-leading business strategies. Top leaders and corporate trainers will encourage, inspire and motivate you to reach your goals; guiding you in how to earn residual income and unlock the potential behind these fast-growing business opportunities.
University in Action (UIA)
Enjoy one-on-one training with the masters at University in Action (UIA). Throughout three days of personal development courses with Isagenix Strategic Training Consultants, you'll learn the building blocks needed to pave the way to personal and professional success, and establish the mindset and skills to become a professional network marketer. The hands-on training will help you to develop a successful team.
Coming in 2018…
New Year Kick Off (NYKO)
The first event on the calendar is New Year Kick Off (NYKO), specifically designed to help kick-start your business in the new year. Throughout this two-day conference, you'll experience the unveiling of new products, gain insightful business knowledge from top leaders, receive training on new promotions and programmes, and much more.
Celebration Europe
A can't-miss experience! Our annual flagship event, Celebration, spans three days and is packed with product and solution releases, training, science talks, leadership meetings, recognition parties and more. Immerse yourself in Isagenix culture and together, we'll celebrate success and ignite your motivation to achieve your goals and build your business now and in the future.
To find out more about UK events including when and where they will take place, visit UK.IsagenixEvents.com. PLUS look out for a dedicated Isagenix Events UK Facebook Group coming soon!