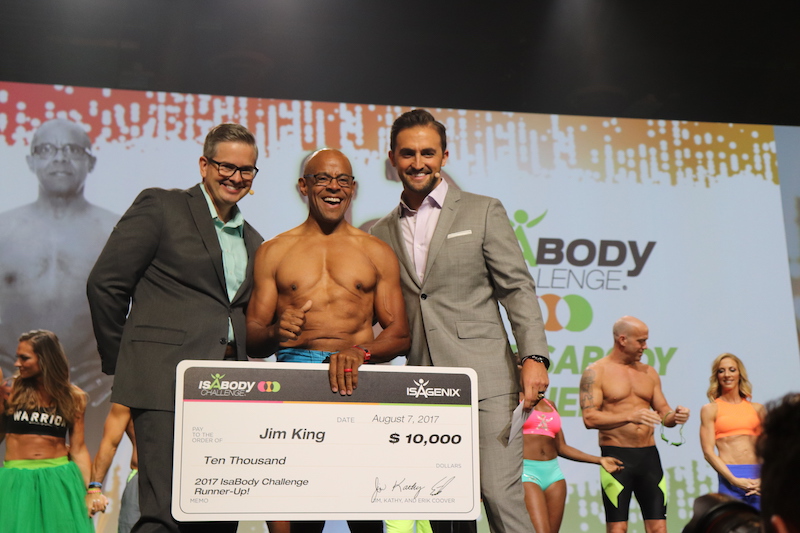 Last year, we crowned our first-ever IsaBody Challenge® Runner-Up in addition to the IsaBody™ Grand Prize Winner. The IsaBody Runner-Up won US$10,000 and helped serve as the face of the IsaBody Challenge for the next year, alongside the IsaBody Grand Prize Winner, Helen Costa-Giles.
At Celebration 2017 in Las Vegas, we were proud to crown our second IsaBody Runner-Up. Our IsaBody Runner-Up will be representing Isagenix alongside the 2017 IsaBody Grand Prize Winner for the next year, speaking at training sessions and participating in various Isagenix events across the United States. This year, the Challenge had its highest completion rate ever, with over 35,000 completions! While the transformations were incredible and the stories were awe inspiring, our 2017 IsaBody Runner-Up stood out against the rest.
Meet Your 2017 IsaBody Challenge Runner-Up, Jim King!
By the time Jim King reached 50 years old, he already felt "old, overweight, and less than." A former powerlifting champion, Jim stopped lifting around 40 years old but continued to eat as if he was training, which caused the weight to pile on. In addition, Jim's doctors were telling him that he needed to change his lifestyle and improve his health.
Jim's wife and past IsaBody Challenge Honorable Mention Lori King introduced him to Isagenix products. Jim started taking the products, specifically the 30-Day System and noticed a change in his weight and his energy. After losing a few pounds, his motivation and drive returned, and he knew he needed to continue with Isagenix.
Next, he joined the IsaBody Challenge and immediately got to work. He viewed his first Challenge as a type of awakening, and with each Challenge afterward, he set specific goals. With his most recent Challenge, Jim wanted to build lean muscle, so he increased his IsaPro® Shakes and also included the Bedtime Belly Buster as part of his Isagenix nutrition. He enhanced his workouts by including a lot of exercises such as pullups, pushups, and core work.
"Isagenix helped sever the link between my age and my age value," Jim said. "I am no longer measured by a calendar, the number of rotations around the sun, or a number associated with some paradigm of a progressive state of decline."
Today, Jim measures his worth by how he feels, his energy level, and his success with reaching his goals and athletic accomplishments.
The IsaBody Challenge is a 16-week transformation Challenge in which participants begin their personal journey to better health. Everyone who entered and completed a 2017 IsaBody Challenge received:
– A $200 product certificate.
– An exclusive IsaBody Challenge T-shirt.
– An IsaBody Challenge achievement certificate.
Will you be next? To register for the IsaBody Challenge, go to your Back Office today so you can start, complete, and repeat!
*Results not typical. Weight loss, muscle gain, lifestyle, and other results depicted here reflect exceptional individual experiences of Isagenix Customers and should not be construed as typical or average. Results vary with individual effort, body composition, eating patterns, time, exercise, and other factors, such as genetic and physiological makeup. In a two-phase study performed from 2015-2016 by Skidmore College in New York, researchers evaluated use of Isagenix products for weight loss. As part of the weight-loss phase, the participants took part in a calorie-controlled regimen of Shake Days and one Cleanse Day per week and lost an average of 24 pounds after 12 weeks. View the study results.