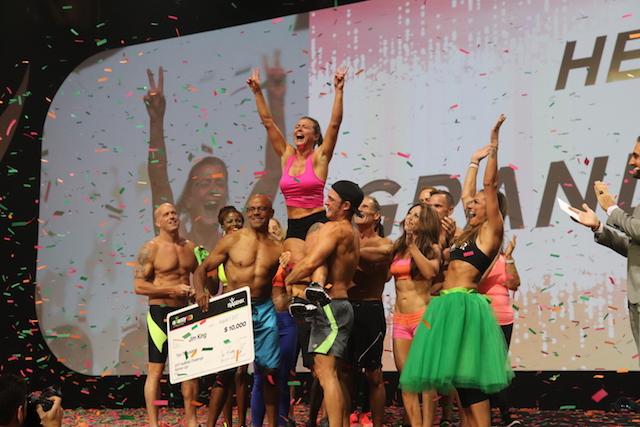 For over a decade, the IsaBody Challenge® has changed hundreds of thousands of lives. In 2017, we reached our highest year of completions to date, with over 35,000 Isagenix Members completing the Challenge! The Challenge has come a long way from a mere 200 completions in 2011!
From 35,000 completions to 15 IsaBody™ Finalists, we crowned our 2017 Grand Prize Winner onstage at Celebration, who will wear the title while proudly representing Isagenix and the IsaBody Challenge.
It's time to reveal the 2017 IsaBody Challenge Grand Prize Winner.
Congratulations to Helen Costa-Giles, our 2017 IsaBody Challenge US$25,000 Grand Prize Winner!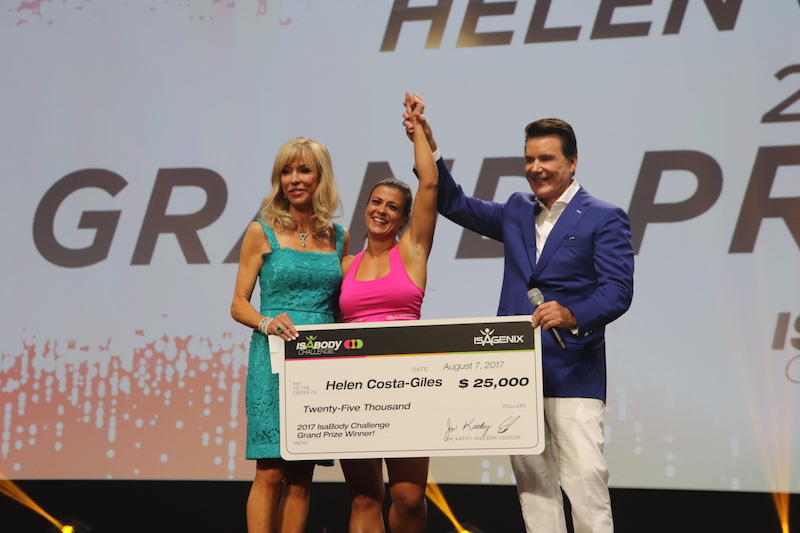 Helen Costa-Giles epitomizes selflessness and contribution. As a mother, coach, and career woman, she was spreading herself thin, and her constant stress and busy schedule began to weigh on her.
"I lost myself and my spark," Helen says. "I didn't have the balance between family and work. I've always been a very energetic person, and I started to lose all of that."
Helen found herself gaining weight and neglecting her own health, but in her mind, she thought this was just how it had to be.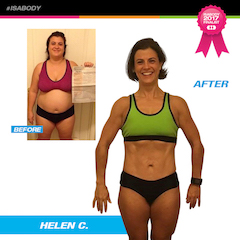 After a visit to her doctor for her annual checkup, Helen realized how badly her health was being affected. She was headed down a road of chronic health issues and decided she needed to make a change.
Helen started with Isagenix and the IsaBody Challenge and immediately began to feel a difference. She felt her energy return, and she started to lose the extra weight.
After completing five IsaBody Challenges, releasing 90 pounds,* and gaining an impressive amount of lean muscle, Helen is a different person. Not only is she the mother she has always wanted to be, Helen now has the time and energy to volunteer in her community and work her full-time job, and she is the 2017 IsaBody Challenge Grand Prize Winner!
Our IsaBody Finalists
The IsaBody Challenge is a 16-week transformation Challenge in which participants begin their personal journey to better health.
This year was our biggest Challenge year to date, bypassing last year's completions by over 10,000! Congratulations to all of our deserving IsaBody Finalists! Our IsaBody Challenge community is proudly represented by these amazing individuals who not only took control of their own lives but are also helping others transform theirs.
The following individuals can proudly say they are among the elite IsaBody Challenge participants. Not only are they in phenomenal shape, but all 15 IsaBody Finalists received US$3,000, tickets and accommodations for them and a guest to Celebration 2017, a luxurious, all-expenses-paid vacation for them and a guest on the IsaBody™ Escape in Costa Rica, and personal photo shoots.
Everyone who completed a 2017 IsaBody Challenge received:
– A $200 product certificate.
– An exclusive IsaBody Challenge T-shirt.
– An IsaBody Challenge achievement certificate.
Celebration 2017 Finalists
Lauren Crider, from Phoenix, AZ lost 24 pounds!*
Rachel Krebs, from Bellingham, WA lost 90 pounds!*
Jim King, from Kingston, NY lost 40 pounds!*
Annette Brooks, from Douglasville, GA lost 25 pounds!*
Josh Boettner, from Reading, PA lost 49 pounds!*
Top Achievers 2017 Finalists
John Jury, from Gilbert, AZ lost 6 pounds!*
Laura Hyman, from Indio, CA lost 106 pounds!*
Randie Peters, from Kapaa, HI gained 15 pounds of lean muscle!*
Philip Reget, from Bend, OR lost 57 pounds!*
Melody Faulkner, from Calgary, AB lost 25 pounds!*
New Year Kick Off 2017 Finalists
Katie Hill, from Spartanburg, SC lost 25 pounds!*
Jason Snider, from Newmarket, ON lost 17 pounds!*
Helen Costa-Giles, from San Antonio, TX lost 90 pounds!*
Peter Gibbenhuck, from Naramata, BC lost 20 pounds!*
Joyce Bell, from Lawrenceville, GA lost 22 pounds!*
Congratulations to our Employee IsaBody Challenge Winner, Tyler Gatlin, who lost 43 pounds during the corporate IsaBody Challenge!*
International IsaBody Challenge Winners
Congratulations to our International IsaBody Challenge Grand Prize Winners!
Yueh-Ling Li
Taiwan
29 pounds*
Sarah McMinn
Australia/New Zealand
49 pounds*
Liliana Zapata
Colombia
28 pounds*
Sandra Zumaran
Mexico
13 pounds*
Yuk Fung Ng
Hong Kong
28 pounds*
La Pendi
Indonesia
0 lbs*
Jaini Bin Jani
Malaysia
Gained 11 pounds of lean muscle*
Cynthia Lee
Singapore
Lost 46 pounds*
If you hope to experience a transformation like our IsaBody Grand Prize Winner and Finalists, register for the IsaBody Challenge today in your Back Office. Maybe we will see YOU on the Celebration stage next year!
*Results not typical. Weight loss, muscle gain, lifestyle, and other results depicted here reflect exceptional individual experiences of Isagenix Customers and should not be construed as typical or average. Results vary with individual effort, body composition, eating patterns, time, exercise, and other factors, such as genetic and physiological makeup. In a two-phase study performed from 2015-2016 by Skidmore College in New York, researchers evaluated use of Isagenix products for weight loss. As part of the weight-loss phase, the participants took part in a calorie-controlled regimen of Shake Days and one Cleanse Day per week and lost an average of 24 pounds after 12 weeks. View the study results.