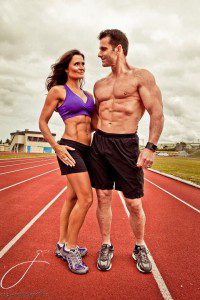 David and Sarah G. are fitness pros.
The owners of Core Essentials in British Columbia, this hardworking couple joined Isagenix® in August 2009 after hearing about its incredible products from 3-Star Golden Circle, 1-Star Executive Shawn and Kari-Lyn O.—now their enrolling sponsors.
They were looking for a new way to support their training, increase their energy, improve their endurance and reduce their post-workout recovery time.
"We were using multiple supplements and buying them from all over the place," shares Sarah, a 2-Star Golden Circle. "So, when we heard about Isagenix®, it was a gift for us."
But, these athletes do more than just train others; they walk the walk.
David has spent the last 30 years training as an Olympic weight lifter, a martial artist and a bodybuilder, with the last 17 years focused on bodybuilding, while Sarah focuses more on proper nutrition.
"We all have days where we don't go to the gym," admits Sarah. "But, if we're consistent with the nutrition we're giving our bodies, then that's 80 percent of the puzzle."
So, for David's 47th birthday, he put his fitness skills to the test and entered the 2012 Western Naturals Masters Bodybuilding Division.
"I had only dieted for two weeks before stepping onstage, whereas most competitors follow a very strict regimen for months" shares David.
When David heard his name announced as the winner of his division, he was over the moon.
To help others feel just as good about themselves, even when they're not in the gym, the couple co-trains 150 women on proper nutrition and exercise through Facebook.
"My main goal is to inspire women to lead happy, healthy lives," shares Sarah.
And, for these women it's a total win-win to get expert advice from both David and Sarah.
So, what's next for this power couple?
David's gearing up to compete in next year's bodybuilding competition, only this time on a national level. To do that, he will spend the next year working out and gaining an additional 10 pounds of lean muscle.
As for Sarah, while she has been asked to compete, it's not her main focus.
"I never say 'never,'" jokes Sarah. "Just not right now."
For more inspiring IsaAthlete profiles, visit Isagenix.com's "People" tab, followed by "Success Stories" to locate our "Athletes" section.