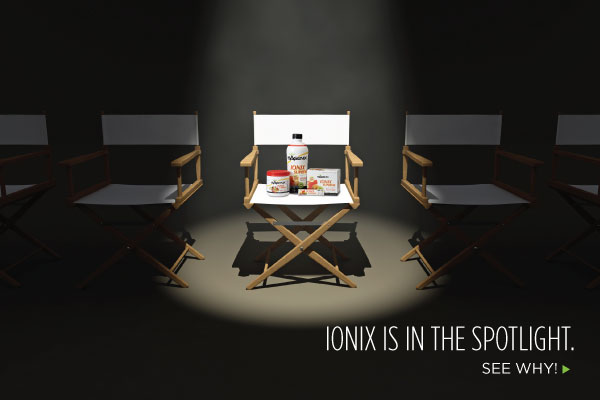 There are few products better for your body and your wallet than Ionix® Supreme. It's not just good for your body, it's good for your business.
Good For You
Ionix Supreme contains a proprietary blend of Adaptogens, which are unique plants that strengthen the body's capacity to resist and reduce stress as well as promote physical and mental performance. Taking Adaptogens helps your body combat stress, focuses your mind, and elevates your daily performance.
There are many ways to enjoy Ionix:
Poured over ice – the way Jim Coover likes it
Mixed with hot water to drink like tea – Kathy Coover's favorite
Added to an IsaLean®­ Pro shake – Travis Garza's two birds with one stone recipe
As a shot before bed – how Adri Lynch enjoys a peaceful night's sleep
Good For Your Business
Ionix isn't just good for you, it's good for your Isagenix business, too!
All types of stress, whether environmental, emotional, or physical can take a toll on the body and affect health, both short and long term. These effects can leave you feeling sluggish and hinder optimal performance.
People need help managing stress. In fact, 2 out of 3 Americans acknowledge they handle stress inappropriately.
Ionix is currently our no. 3 product, used by 24 percent of all members. Our research shows that many people don't order Ionix because they don't know what it is, how it works, or they don't like the taste. By teaching people about the product, and how to properly prepare and enjoy it, there's a big opportunity to grow order basket with both current and new Isagenix members.
For every member on your team who adds Ionix to their monthly Autoship order, you earn 22 BV!
As always, you can learn more about Ionix—and all of our Solutions to Transform Lives™—at IsaProduct.com.