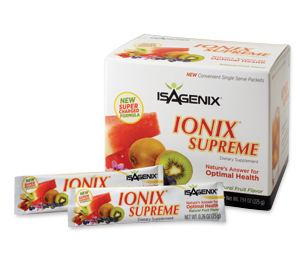 Get ready to zap your stress on-the-go thanks to new, convenient Ionix® Supreme packets!
Add a handy packet to your water bottle and give your body the support it needs to fend off the hazards of stress. Featuring our powerful super-charged powder formula, each 30-count box of Ionix Supreme packets will provide the boost you need on a daily basis thanks to plant-based Adaptogens–simply slip a packet into your briefcase, purse or gym bag!
So why should you choose Ionix Supreme every day? Even if you can't change everything about your lifestyle, you can reduce the impact of stress, improve health, create vibrant energy and get more joy out of life while helping your body do the work it was designed to do.
Benefits
• Contains adaptogenic botanicals
• Reduces effects from stress
• New and improved taste and increased bioactives
• Supports energy and physical performancemental and physical performance
• Promotes faster recovery
• Helps reduce fatigue while increasing vitality and mental focus
• Supports greater overall health and youthful aging
• No artificial stimulants
How to Use
• With its herbal ingredients acting synergistically, drinking 1-2 servings of Ionix Supreme daily offers an advantageous way of obtaining the protection Adaptogens provide against stress. The drink can also help improve focus, attention and athletic performance.
• Ideal as a cold drink or as a "tea" with warmed water. If you prefer, dilute with cold, purified water and best used as part of a complete Isagenix® system.
Add a 30-count box of Ionix Supreme packets to your Autoship today! Learn more about the power of Ionix Supreme on IsaProduct.com.