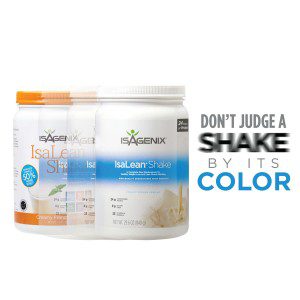 Isagenix is in the midst of a makeover—our labels, that is. Since 2014, we've been hard at work creating simpler, easy-to-understand designs with our brand front and center, benefits that pop, and many other features to give you what you need to share Isagenix with the world. The process, while lengthy, will be well worth it.
"The objective behind the new design is to have a line of products that look dynamic in representing the balance between science and nature, as it will be the look of Isagenix for years to come," says Travis Garza, Chief Sales and Marketing Officer at Isagenix. "There is strategic thinking behind every element. Our goal is to make it easy for you to share Isagenix."
The intention behind the new look was to create a clean, cohesive design. Another major goal behind the fresh packaging design was communicating simply and effectively. Since 2002, in terms of packaging, Isagenix has come a long way. The new packaging is a tool to start conversations and spur fresh interest. We began to roll out updated packaging in 2014 with Product B® IsaGenesis®. Most recently, brand-new packaging started appearing on members of the IsaLean® Shake family, specifically Creamy French Vanilla.
Some of the highlights of our new packaging include:
The Isagenix brand front and center
Clearly spelled out product benefits on the front panel, with details on the side panel
Nutritional information in a clean, new layout
Dietary icons for each of our products (gluten-free, soy-free, vegetarian, and/or kosher) showing that our cows have not been treated with hormones or routine antibiotics
"The Isagenix vision is to impact world health and free people from physical and financial pain, and in the process, create the largest health and wellness company in the world," says Travis. "Our packaging and everything we do is a reflection of this vision and core to the values that make Isagenix different from any other health and wellness company in the world."
Please note, the transition from old to new will not happen all at once. Products will be unveiled in stages over the next several months.
Stay tuned to IsaFYI.com for more exciting product updates.