Congratulations to Amyra, who just won the title of 2014 IsaBody Challenge Grand Prize Winner and $25,000 cash for her commitment to embarking on a life-changing transformation journey!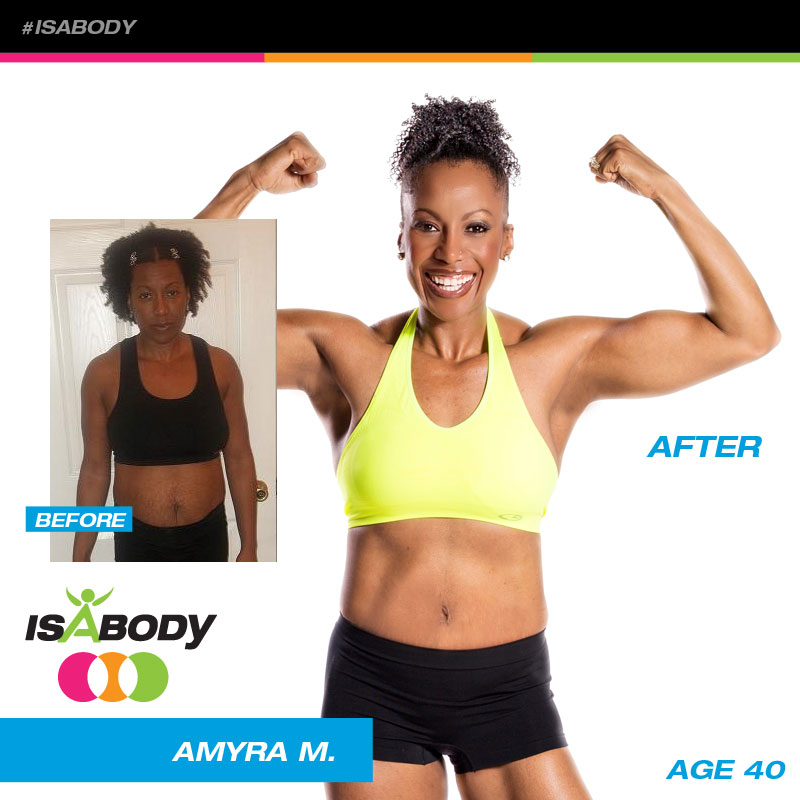 A fitness professional by trade, Amyra worked out daily but was still gaining weight and was constantly exhausted. She knew it was directly related to her financial pressures at home. She also knew something had to change. It was a blessing that shortly thereafter she was introduced to Isagenix. Completing her second IsaBody Challenge, Amyra has released 22 pounds and dropped six dress sizes, but says it is her Isagenix business that is truly transforming her life.* By sharing her story on Facebook, Amyra is attracting like-minded people to her business and, as a result, contributing $300-$900 a month to her household income, lessening the financial strain on her family.** "While my IsaBody Challenge is complete, my full transformation is just beginning," shares Amyra. "I now have a confident expectation for our financial future."
The Final 14
Isagenix would also like to give a HUGE round of applause to this year's Top 14 Finalists for their incredible transformations! As a reward, they each received:
$3,000 USD Cash
Free registration and paid expenses for them and a guest to 2014 Celebration for the selection of the Grand Prize Winner.
Paid trip for them and a guest aboard the 2014 IsaBody Challenge Transformation Cruise***
2014 Celebration Finalists
 2014 Top Achievers Finalists
2014 New Year Kick Off Finalists
Everyone who entered and completed the 2014 IsaBody Challenge will receive:
$200 Product Certificate
Exclusive IsaBody Challenge T-Shirt
IsaBody Challenge Pin
IsaBody Challenge Achievement Certificate
One entry into the 2014 IsaBody Challenge Transformation Cruise Drawing
The opportunity to have stories, and "before" and "after" photos on the Isagenix website, in company publications, and in promotional materials.
Employee IsaBody Challenge Winner
2014 IsaBody Challenge Winner, Gladys C., who released 40 pounds*
International IsaBody Challenge Winners
Did you also know that the IsaBody Challenge is now international? Isagenix would like to recognize our international IsaBody Challenge winners, who ventured to Celebration.
Australia
2014 IsaBody Challenge Winner, Tami S., who released 78 pounds*
Hong Kong
2014 IsaBody Challenge Winner, Lam K., who released 25 pounds*
Malaysia
2014 IsaBody Challenge Winner Niki R., who released 70 pounds*
So, what are you waiting for? Register for the Challenge today!
*The weight-loss testimonials presented apply only to the individuals depicted, cannot be guaranteed, and should not be considered typical. A 2008 university study showed a statistically significant weight loss of 7 pounds (3.2 kg) during the first 9 days of the Cleansing and Fat Burning System.
**Earning levels for Isagenix Independent Associates that appear in this publication are examples and should not be construed as typical or average. Income level achievements are dependent upon the individual Associate's business skills, personal ambition, time, commitment, activity and demographic factors. For average earnings, see the Isagenix Independent Associate Earnings Statement found at www.IsagenixEarnings.com.
***Paid expenses include accommodations, airfare, and ground transportation. Note: In order to be eligible for each trip, winners must maintain or improve their results. "Maintenance" photos will be required prior to booking the awarded trips.