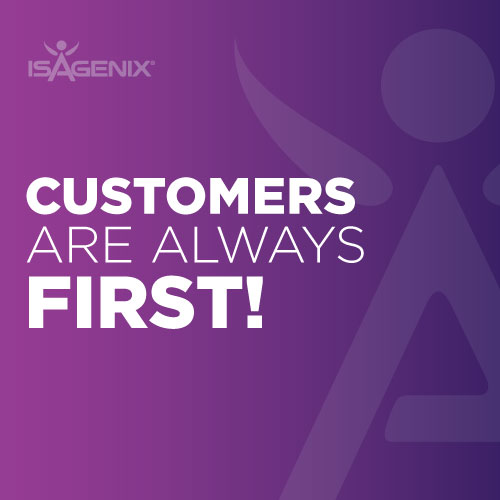 Isagenix is excited to announce the launch of our most important initiative ever! Aptly named Customer First, this initiative recognizes the essential role Customers play at Isagenix.
Customer First is designed to:
Help our Associates attract and retain more Customers and serve them better.
Simplify the Isagenix ordering and enrollment processes for everyone.
Expand and protect the Isagenix opportunity with no-compromise, responsible business practices.
Be sure to watch this special video to learn more:
"As a world-class organization, we always strive to provide our Customers with the best possible solutions and experiences," said Jim Coover, Isagenix owner and chief executive officer. "Our motto is 'If it's not right for the Customers, it's not right for the company,' and we are confident this initiative will improve the Customer experience and further our goal of becoming the largest health and wellness company in the world."
So, whether you are a Customer or an Associate, Customer First provides many exciting enhancements to your experience with Isagenix, including:
A new Member joins Isagenix as a Customer in order to enjoy the benefits of our transformational products and may elect to become an Associate in order to build a business and participate in the Isagenix Team Compensation Plan immediately or at a future time.
Customers who elect to pay an annual membership fee will receive wholesale pricing for our products and systems.
Customers are not eligible to participate in the Compensation Plan but can receive new Product Introduction Reward coupons when they refer others who purchase qualifying products and systems.
Associates will enjoy exciting enhancements to the Compensation Plan.
Everyone will benefit from our simplified and mobile-friendly enrollment process.
These new features as part of Customer First will be available in the U.S., Canada, Puerto Rico, Australia, and New Zealand, starting March 27. As we continue to expand our global presence, all new markets, including the U.K., will open with the Customer First platform.
For more information on Customer First including frequently asked questions and other resources, visit IsagenixCustomerFirst.com.