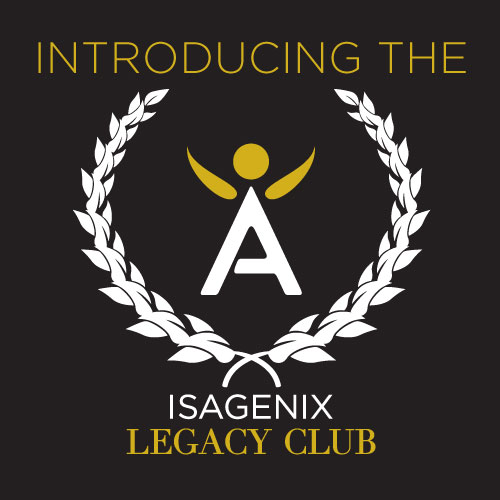 Over the past 15 years, we've had the pleasure of recognizing more than 200 remarkable businesses that have cumulatively earned $1 million or more with Isagenix. Reaching this milestone is an incredible achievement, and when everything you earn is a reflection of the lives you have changed, it becomes an unforgettable moment.
At Isagenix, our leaders come together as a family from across the globe and therefore come from all different backgrounds and lifestyles. Each has their own story, but one common characteristic remains – the desire to create a legacy with Isagenix by creating freedom and changing lives.
The Isagenix Legacy Club
With our focus on helping others create a legacy with Isagenix, we have decided to transform the A-List Millionaire program to the Isagenix Legacy Club.
A legacy cannot be built without love and charity, and with the beginning of this program, we aim to honor those virtues and recognize the extraordinary legacies that are being built by Associates through their hard work, leadership, and dedication.
Recognition to Complement Your Legacy
As Isagenix continues to grow, we are celebrating more and more Associates who are crossing the cumulative $1 million earnings mark, and we are so proud of those accomplishments. As we continue to celebrate this level of success, we will be introducing new ways in which members of the Isagenix Legacy Club will be recognized.
This Club will honor five levels of cumulative earnings, ranging from $1 million to $40 million and beyond. At each level, members will be honored with an exclusive gift from Isagenix in recognition of their continued business growth.
Replacing the current IsaFYI.com success stories, members will be recognized in a monthly social media post that they can share with team members, family, and friends and will be included in monthly rank advancement newsletters.
To learn more about the Isagenix Legacy Club and its perks, visit IsaFYI.com/Recognition.
Earning levels or income statements for the Isagenix Independent Associates discussed here exceed the average results achieved by all Associates during the same time period, are not necessarily representative of the success or compensation that any particular Associate will receive, and should not be construed as typical or average. Earnings reflect gross amounts that do not include any business expenses. The ability to earn income under the Isagenix Compensation Plan depends on many factors including an individual Associate's business, social, and sales skills; personal ambition and activity; availability of time and financial resources; and access to a large network of family, friends, and business contacts. Isagenix cannot and does not guarantee any particular level of earnings. Even Associates who dedicate a significant amount of time, effort, and personal funds may not achieve a meaningful level of success. For average earnings, refer to the Isagenix Earnings Disclosure Statement at IsagenixEarnings.com.