Congratulations to Natalie H., our 2015 IsaBody Challenge US$25,000 Grand Prize Winner!
Before being introduced to Isagenix by a friend, Natalie was overweight and uncomfortable in her own skin. It seemed everything she was taught as a competitive athlete was not working anymore.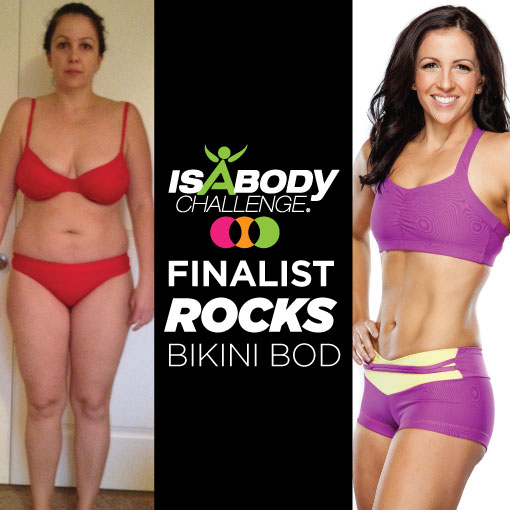 "I was feeling like a failure as a mom without energy, a wife with no zest for life, and a partner with no financial contribution."
She decided to try Isagenix with the goal to become the best version of herself. During her yearlong journey, she released 46 pounds, 53 inches, and 15 percent body fat* and completed back-to-back IsaBody Challenges. The 31-year-old mother even fulfilled her dream of competing in a bikini competition.
"I feel the best I have ever felt. The fact that it happened while I'm able to earn an income that will allow my husband and I to expand our family is something I can never repay. My life is forever changed."
Our IsaBody Finalists
The IsaBody Challenge® is a 16-week transformation Challenge in which participants begin their own personal journey to better health.
With over 10,000 completions for 2015, this has been our biggest Challenge year to date. Congratulations to all of our deserving Finalists! Our IsaBody Challenge community is proudly represented by these amazing individuals who not only took control of their own lives, but are helping others transform their lives as well.
The following individuals can proudly say they are among the elite IsaBody Challenge participants. Not only are they in phenomenal shape, but all five Finalists received US$3,000 cash, tickets, and accommodations for them and a guest to 2015 Celebration, and a luxurious, all-expenses-paid vacation for them and a guest on the IsaBody™ Transformation Cruise this fall.
2015 Celebration Finalists:
Billy A. from Phoenix, Arizona lost 37 pounds, 50 pounds total with Isagenix!*
Caylen W. from Lyalta, Alberta lost 28 pounds!*
Kelli E. from Roberts, Wisconsin lost 13 pounds!*
Michael L. from Northbrook, Illinois lost 21 pounds during the Challenge, and 51 pounds total with Isagenix!*
Nicole S. from Kennesaw, Georgia lost 19 pounds!*
2015 Top Achievers Finalists
Jesse J. from Lolo, Montana lost 29 pounds* and completed 2 IsaBody Challenges!
Angela F. from Summerville, South Carolina lost 50 pounds* and completed 4 IsaBody Challenges!
John M. from Worcester, Massachusetts lost 29 pounds* and completed 4 IsaBody Challenges!
Ellen C. from Naperville, Illinois lost 140 pounds* and completed 2 IsaBody Challenges!
2015 New Year Kick Off Finalists
Abilio V. from Aurora, Colorado lost 32 pounds!*
Amy O. from Eyota, Minnesota lost 56 pounds!*
James B. from New Lowell, Ontario lost 16 pounds!*
Kathy P. from Kapaa, Hawaii lost 39 pounds* and completed 4 Challenges!
Ryan E. from Calgary, Alberta gained 2 pounds!*
Everyone who entered and completed a 2015 IsaBody Challenge received:
$200 Product Certificate
Exclusive IsaBody Challenge T-shirt
IsaBody Challenge Achievement Certificate
One Entry Into the 2015 IsaBody Challenge Transformation Cruise Drawing
Congratulations to our Employee IsaBody Challenge Winner, Jacob Thielen. He lost over 35 pounds and 14 percent body fat during the Corporate IsaBody Challenge!*
International IsaBody Challenge Winners

Our Taiwan IsaBody Challenge Winner is Yu-Chun H.
Our Colombia IsaBody Challenge Winner is Alexander O.
Our Australia and New Zealand IsaBody Challenge Winner is Justin R.
Our Mexico IsaBody Challenge Winner is Hector M.
Do you want to be a part of the action? Register for the IsaBody Challenge today in your Back Office, and be a part of the incredible 10-Year Anniversary of the IsaBody Challenge!
*Weight loss should not be considered typical. In a study performed in 2012 by University of Illinois at Chicago researchers, subjects lost an average of 9 pounds after 30 days on an Isagenix System. The subjects also had a greater level of adherence and had more consistent weight loss from week to week compared to subjects on a traditional diet.