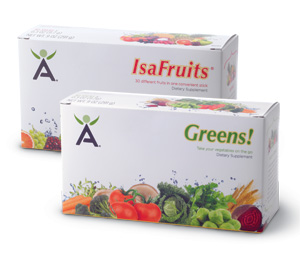 Getting all the vitamins and minerals you need every day can be tough, especially if you're trying to meet your daily quota by consuming fruits and vegetables. But, there's an easy way to supplement your diet while also adding tasty flavor to your daily Isagenix® routine: meet Isagenix Greens!™ and IsaFruits®!
Recommended for the entire family ages 18 and up, both of these delicious powdered mixes feature dozens of fruits and veggies that are cold-processed to maintain their complex, whole food nutritional profile. Isagenix Greens! features 33 "supergreens" in one scoop that include gingko biloba leaf, green tea extract, grape seed, chlorella and spirulina. IsaFruits features more than 30 fruits in one scoop including açai berry, mangosteen, noni, pomegranate and wolfberry.
So, how can you use Isagenix Greens! and IsaFruits? Here are a few quick ideas:
1. Add it to your morning IsaLean Shake. Sweeten and fortify your morning IsaLean Shake with a healthy scoop of IsaFruits and/or Isagenix Greens! to power up your antioxidant potential.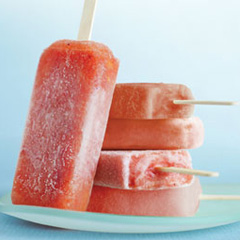 2. Make Popsicles. Warm weather is just around the corner, but you can avoid the high-, fake-sugar Popsicles from the grocery store and make your own. Simply mix water and IsaFruits or Isagenix Greens!, pour into Popsicle molds and freeze overnight for a sweet treat that's sure to satisfy. Here's another healthy Popsicle recipe you can try.
3. Try it mid-day in water. Grab a water bottle, toss in a scoop of IsaFruits or Isagenix Greens! for a healthy boost of antioxidants, flavor and energy.
4. Mix it in your fresh salsa. Include even more "greens" in your next batch of flavorful salsa! Check out this recipe for fresh salsa with one tablespoon of Isagenix   Greens!.
Add a canister of IsaFruits and Isagenix Greens! to your next Autoship order and start experimenting! Log in to your Back Office and select "Orders" to get started.
Have a fun or tasty recipe you'd like to share? Email it to Recipes@IsagenixCorp.com and we could feature it on Isagenix.com, IsaFYI.com and even on our Facebook page!